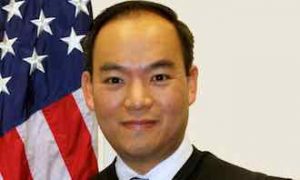 Mark my Words, this man is a closeted Homosexual and Pedophile! When the Pedophile list is made public, he will be on it! Most of the Judges and Politicians have dossiers on them and are TOLD what to do by the Shadow Government!
It is also note worthy this Judge happens to be a colleague of the Mac Daddy, Obama. He went to Hawaii just before this Corrupt judge issued his restraining order.
Canada Free Press – After a lawless Obama-appointed judge in Hawaii issued a temporary restraining order Wednesday against Executive Order 13780, the second iteration of President Trump's temporary travel ban, a second lawless Obama-appointed judge in Maryland did the same thing the next day.
U.S. News and World Report reports:
U.S. District Judge Theodore Chuang halted a provision in the March 6 executive order that would have largely blocked citizens of six majority Muslim nations – Iran, Libya, Somalia, Sudan, Syria and Yemen – from entering the country for 90 days.
Read the rest at Canada free Press.