John 8:44 Fake News Outlets: They are of their father the devil
"Ye are of your father the devil, and the lusts of your father ye will do. He was a murderer from the beginning, and abode not in the truth, because there is no truth in him. When he speaketh a lie, he speaketh of his own: for he is a liar, and the father of it."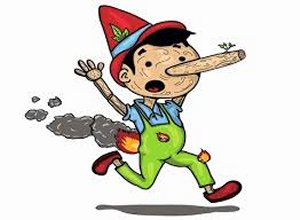 The story of Pinocchio perhaps best describes the inhabitants of the Fake News Outlets. The more they lie, the more you can see them for what they are………., well some of us can! As the sayings go, "Liar, Liar, Pants on Fire" and "where there is smoke, there is fire" rings true and should be their motto!
Pinocchio is known for having a short nose that becomes longer when he is under stress, especially while lying. In the original tale, Collodi describes him as a "rascal," "imp," "scapegrace," "disgrace," "ragamuffin," and "confirmed rogue," with even his father, carpenter Geppetto, referring to him as a "wretched boy." Upon being born, Pinocchio immediately laughs derisively in his creator's face, whereupon he steals the old man's wig. Source: Wikipedia
Does that describe the majority of the talking heads, the teleprompter readers that infest electronic devices across the world? The Communist left is "laughing in the Creators face" mocking and spewing hatred at every turn! Proverbs 19:9 "A false witness shall not be unpunished, and he that speaketh lies shall perish."  Liars ALWAYS get their just due!