Dark Brandon Speech Of Doom
The Communist Democrats are in FULL War mode against 1/2 to 3/4 of Americans!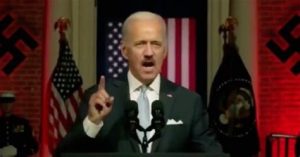 Somewhere from a special place in hell Saul Alinsky. Forced to watch CSPAN for eternity… is laughing. Reveling in Joe Biden's text book example of a speech utilizing every rule for radicals he could jam in.
Biden's address of doom arrogantly rattled on. Knowingly ignoring the criminal double standard that the speech was perched upon like a gargoyle. After the Country endured millions of dollars in damage and deaths due to the left's unchecked goading of violence.
And as the senile placeholder for globalism was slowly helped away by his racist first lady. Most Americans knew….Joe Biden's speech would go down as one of if not the darkest speech in American history by a sitting President of the United States.
Update – Joe Biden Tries to Walk Back Dark Speech: 'I Don't Consider Any Trump Supporter to Be a Threat'
Was it a DOG WHISTLE to rally his Communist cohorts, or to trigger their Right Wing Manchurian Candidate's into action??

President Joe Biden tried Friday to walk back his dark political speech from the night before after receiving considerable backlash for trying to portray supporters of former President Donald Trump as radical extremists who threatened the United States.
"I don't consider any Trump supporter to be a threat to the country," Biden replied when asked by reporters at the White House about why he decided to say that Trump and his supporters were a threat to democracy. Read the rest here
Biden Speech Did Not Go Far Enough, Said Disgraced Former FBI Agent and Traitor Andrew McCabe
Andrew McCabe — the former acting FBI director who played a key role in numerous anti-Trump plots — said on CNN that Joe Biden's divisive Independence Hall speech did not go far enough. Biden called "MAGA Republicans" a threat to U.S. "democracy" and claimed that over 70 million Americans are enemies during a primetime speech on Thursday. McCabe enjoyed the speech, but he still wants to know which specific actions that will be taken against "insurrectionist" Trump supporters. Read the rest here
Isaiah 5:20-24 "Woe unto them that call evil good, and good evil; that put darkness for light, and light for darkness; that put bitter for sweet, and sweet for bitter! 21 Woe unto them that are wise in their own eyes, and prudent in their own sight! 22 Woe unto them that are mighty to drink wine, and men of strength to mingle strong drink: 23 Which justify the wicked for reward, and take away the righteousness of the righteous from him! 24 Therefore as the fire devoureth the stubble, and the flame consumeth the chaff, so their root shall be as rottenness, and their blossom shall go up as dust: because they have cast away the law of the LORD of hosts, and despised the word of the Holy One of Israel."
---
If you go to the store to buy Meat, don't run to the Milk section or the Junk Food aisle looking for it!!
The Meat Section is the
True Gospel of Jesus Christ
.
The Milk Section is likened to those who will not preach on sin and
Hell
, just a feel good message, the Social gospel.
The Junk Food Isle is the outright false doctrine AKA the prosperity gospel, name it and claim it, the Hebraic Roots movement and other false teachings!!
Feasting on just Milk and Junk will eventually cause you great harm, you can count on it!!
---
If you appreciate what this Ministry is doing to Expose the Fake Christians, Satanists, Witches, Communist/Socialist Democrats, R.I.N.O Republicans and the assault on our Conservative, True Christian values,
please consider a small donation
to help us continue and expand. This Ministry is not only under attack by the Enemy, we are now under attack from supposed Christians also. It is what
Tom Horn calls 'Blood on the Altar"
!