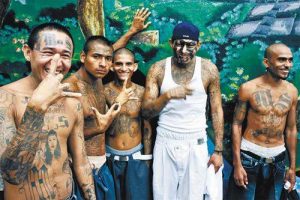 WASHINGTON (Reuters) – More than 200 alleged members and associates of the violent Mara Salvatrucha gang, better known as MS-13, have been arrested in a crackdown across the United States, federal officials said on Thursday.
The Oct. 8 to Nov. 11 sweep was the second phase of Operation Raging Bull, which had previously netted 53 arrests in El Salvador, officials from the Immigration and Customs Enforcement (ICE) agency told reporters.
MS-13 was founded in Los Angeles in the 1980s in part to protect immigrants fleeing civil war in El Salvador and has since grown into a sprawling cross-border criminal organization.
U.S. President Donald Trump has vowed to crack down on criminal gangs, especially MS-13, and has referred to gang members as "animals" and "thugs."
"We are not done. We will not be done until we have totally dismantled this organization. The president of the United States has made this a priority and ICE joins him in this," Tom Homan, deputy director of ICE, told reporters.
"So we'll continue to look at arresting every member, every leader and every associate of this criminal gang," Homan added.
In the latest effort, 93 were arrested on federal or state criminal charges, while the rest were charged with immigration violations.
Of the 214 people arrested, 16 were American citizens and 198 were foreign nationals, of whom five were legal residents. More than 60 of those arrested had entered the country as unaccompanied minors, ICE officials said.