Unless you have been heeding the warnings and have taken steps to PREPARE!

This Winter, We Could Potentially Be Facing Simultaneous Shortages Of Oil, Natural Gas, Propane And Coal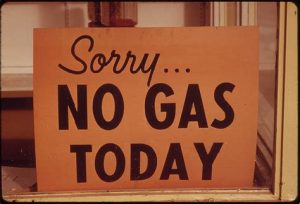 Michael Snyder | The Most Important News – I realize that the headline that I have chosen for this article may sound a bit wild to many of you, but keep reading because what we are potentially facing is extremely serious.  Right now, we are already in the midst of an epic global energy crisis.
There have already been significant power outages all over the planet, and prices are spiking at a pace that is absolutely breathtaking.  With each passing day, it seems like supplies of oil, natural gas, propane and coal just keep getting tighter, and what is really odd is that it is happening so early in the year.  Summer just ended a few weeks ago, and the heart of winter in the northern hemisphere is still several months away.  So if things are this bad already, what are things going to look like when we get into January and February?
Jon Note: This is a MANUFACTURED Crisis JUST LIKE the Bio-Weapon Plandemic that was released on Humanity by the Luciferian's!
This morning, I was stunned when I pulled up the Drudge Report and saw that one gas station in California was now selling gasoline for $7.59 a gallon…
Gas keeps getting more and more expensive, especially in California. But perhaps nowhere is it pricier than the remote central coast community of Gorda.

The town's only gas station is offering regular unleaded for $7.59. Premium is nearly $8.50.
The good news is that a gallon of gasoline is not nearly that high in most of the rest of the nation.
But the bad news is that prices are rising aggressively from coast to coast.  As of yesterday, Fox News was reporting that the price of gasoline had risen "for 22 straight days".
The main reason why prices are skyrocketing is because supplies are starting to get really tight.  In fact, it is being reported that the crude oil hub in Cushing, Oklahoma could be "effectively out of crude" in just a few weeks…
In a note predicting the near-term dynamics of the oil market, JPMorgan's commodity Natasha Kaneva writes that in a world of pervasive nat gas and coal shortages which are forcing the power sector to increasingly turn to oil (boosting demand by 750bkd during winter and drawing inventory by 2.1mmb/d in Nov and Dec), Cushing oil storage – which just dropped to 31.2mm barrels, the lowest since 2018…

… may be just weeks from being "effectively out of crude." The bank's conclusion: "if nothing were to change in the Cushing balance over the next two months, we might expect front WTI spreads to spike to record highs—a "super backwardation" scenario."
Needless to say, we have never seen anything like this happen before.
In such a scenario, how high could the price of oil potentially go?
And if oil price records are being shattered in the months ahead, what will ordinary Americans have to pay when they go to fill up their vehicles?
I have a feeling that we are about to enter uncharted territory.
Meanwhile, one expert recently told Bloomberg that we could soon be facing "propane-market armageddon"…
In the report by Bloomberg, Ang says prices for the first quarter of 2022 are already far above later supplies, saying, "it may indicate players are preparing for propane-market armageddon." He added that some areas could see outright shortages before winter ends.

To add to the stress, Poynter says some weather forecasts are already calling for a colder than normal winter, thanks to the La Nina effect. Experts call for an 87% chance of the system bringing an early and harsh winter season.
The use of the term "outright shortages" definitely alarms me, because there are millions of Americans that use propane to heat their homes.
If the propane runs out in the middle of the winter, what are those people supposed to do?
On the other side of the globe, a tightening of natural gas supplies has become an enormous problem.  According to Global News, natural gas prices in Europe and Asia "have more than tripled" in 2021…
Regional natural gas markets in the United States are seeing prices for this winter surge along with global record highs — suggesting that the energy bills causing headaches in Europe and Asia will hit the world's top gas producer before long.

Gas prices in Europe and Asia have more than tripled this year, causing manufacturers to curtail activity from Spain to Britain and sparking power crises in China.
In addition to a lack of natural gas, a severe coal shortage has also contributed to the economic chaos that we are witnessing in China at the moment.
Just recently, CNN reported that energy shortages had already spread to 20 different provinces…
Power shortages have spread to 20 provinces in recent weeks, forcing the government to ration electricity during peak hours and some factories to suspend production. These disruptions resulted in a sharp drop in industrial output last month and weighed on the outlook for China's economy.
India is being hit really hard by the global coal shortage as well.
In fact, we are being told that most of India's coal plants "have critically low levels of coal inventory"…
Most of India's coal-fired power plants have critically low levels of coal inventory at a time when the economy is picking up and fueling electricity demand.

Coal accounts for around 70% of India's electricity generation.
So the truth is that my headline for this article is not over the top at all.
The shortages aren't something that we have to wait for.  They are already here, and they are going to get a lot worse.
Of course this new energy crisis is going to make our global supply chain headaches even more frustrating.
In our economic system, it takes energy to literally do just about anything, and as energy becomes more expensive virtually every form of economic activity will also become more expensive.
That means that all of the stuff that is made for us in Asia and shipped halfway around the planet is going to start costing a lot more.
As toy shortages intensify heading into the holiday season, we are already seeing some resellers pricing toys at nearly 400 percent of their normal levels…
American Girl's sold-out blonde winter princess doll, which retailed for $250, is now going for up to $999 on platforms such as Mercari and eBay.

The cat-themed Gabby's Dollhouse, which is all the rage for this year's preschoolers, has nearly quadrupled on some sites from its original $55 price tag.
This is the "new normal", and so you might as well get used to it.
I am shocked that things have deteriorated so rapidly, and this new global energy crisis is definitely setting the stage for so many things that I have been warning about.
As global energy supplies get tighter and tighter, all of us will feel the pain.
And the experts are telling us that things are not going to turn around any time soon.
So I hope you have a plan for this winter and beyond, because things are really starting to get crazy out there.
---
If you go to the store to buy Meat, don't run to the Milk section or the Junk Food aisle looking for it!!
The Meat Section is the
True Gospel of Jesus Christ
.
The Milk Section is likened to those who will not preach on sin and
Hell
, just a feel good message, the Social gospel.
The Junk Food Isle is the outright false doctrine AKA the prosperity gospel, name it and claim it, the Hebraic Roots movement and other false teachings!!
Feasting on just Milk and Junk will eventually cause you great harm, you can count on it!!
---
If you appreciate what this Ministry is doing to Expose the Fake Christians, Satanists, Witches, Communist/Socialist Democrats, R.I.N.O Republicans and the assault on our Conservative, True Christian values,
please consider a small donation
to help us continue and expand. This Ministry is not only under attack by the Enemy, we are now under attack from supposed Christians also. It is what
Tom Horn calls 'Blood on the Altar"
!