A 22-year-old (MUSLIM) man armed with a machete attacked a priest and several churchgoers after he stormed a Catholic church in the Indonesian city of Yogyakarta.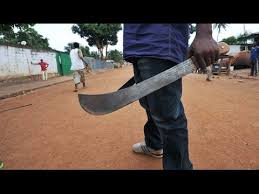 The priest, identified as Karl Edmund by the Jakarta Post, was officiating at St Lidwina Church on Sunday when he was struck in the back of the head after several other worshippers were injured before the man decapitated statues of Jesus Christ and the Virgin Mary.
Video shows the young attacker, who is believed to be a university student, assail churchgoers in front of the west door before entering the church.
The man allegedly ran toward the choir and attacked pastor Edmund, who was leading the choir. He then slashed the statues of Jesus and Mary near the altar.
Source: Breitbart News. See more there