Bread and Circuses – A phrase used by a Roman writer to deplore the declining heroism of Romans after the Roman Republic ceased to exist and the Roman Empire began: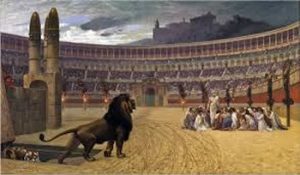 "Two things only the people anxiously desire — bread and circuses."
The government kept the Roman populace happy by distributing free food and staging huge spectacles. 

While you are watching the "Spectacle" the Lions have been released and YOU are on the Menu!
Nunes Confirms There Was "Incidental Surveillance" Of Trump During Obama Administration, "Seems To Be Inappropriate"
Incidental: accompanying but not a major part of something. – liable to happen as a consequence of.
Two days after FBI director Comey shot down Trump's allegation that Trump was being wiretapped by president Obama before the election, it appears that president Trump may have been on to something because moments ago, the House Intelligence Chairman, Devin Nunes, told reporters that the U.S. intelligence community incidentally collected information on members of President Trump's transition team, possibly including Trump himself, and the information was "widely disseminated" in intelligence reports. Read the rest here.

So if that is true, why are all of them covering up this bit of news?
CIA Whistleblower Leaked Proof Trump Under "Systematic Illegal" Surveillance Over Two Years Ago: FBI Sat On It
Systematic: done or acting according to a fixed plan or system; methodical.
The same day House Intelligence Committee chairman Devin Nunes gave a press conference disclosing that President Trump had been under "incidental surveillance," Attorney and FreedomWatch Chairman, Larry Klayman, sent a letter to the House Committee on Intelligence imploring them to pursue the claims and evidence presented under oath at a Washington DC FBI Field Office by his client – CIA / NSA Whistleblower Dennis Montgomery – who Klayman claims "holds the keys to disproving the false claims… …that there is no evidence that the president and his men were wiretapped"
When Montgomery attempted to deliver this information through the appropriate channels two years ago, the former CIA and NSA contractor wasn't given the time of day: Read the rest here.

So which one is it, Systematic or Incidental? With all the evidence that has come out I say most definitely, Systematic!
One of three scenarios:
1 Peter has no idea what Paul is doing
2 Peter and Paul are totally Inept and incompetent
3 Peter and Paul are both corrupt and working to create the Revived Roman Empire!

Which ever one, or combination of, there seems to be a sinister pattern and method to their madness. They want to confuse and give EACH side just enough to lob back and forth, like a tennis match, while they control the court! On thing is for sure, Lucifer is the puppet master of all!
---
If you go to the store to buy Meat, don't run to the Milk section or the Junk Food aisle looking for it!!
The Meat Section is the
True Gospel of Jesus Christ
.
The Milk Section is likened to those who will not preach on sin and
Hell
, just a feel good message, the Social gospel.
The Junk Food Isle is the outright false doctrine AKA the prosperity gospel, name it and claim it, the Hebraic Roots movement and other false teachings!!
Feasting on just Milk and Junk will eventually cause you great harm, you can count on it!!
---
If you appreciate what this Ministry is doing to Expose the Fake Christians, Satanists, Witches, Communist/Socialist Democrats, R.I.N.O Republicans and the assault on our Conservative, True Christian values,
please consider a small donation
to help us continue and expand. This Ministry is not only under attack by the Enemy, we are now under attack from supposed Christians also. It is what
Tom Horn calls 'Blood on the Altar"
!