I always thought it would be the Muslim Sleeper cells, but the Communist Terrorist Democrat party has tapped into—and allied with—the Communist Antifa Terror Cells! 
Nikita Khrushchev – "We will take America without firing a shot…….We will BURY YOU! We can't expect the American People to jump from Capitalism to Communism, but we can assist their elected leaders in giving them small doses of Socialism, until they awaken one day to find that they have Communism. We do not have to invade the United States, we will destroy you from within."
(From an address to Western Ambassadors at the Polish embassy in Moscow on November 18, 1956.)
Antifa Cells Announce Day Of Retribution Across US After Feds Quell Riots In Portland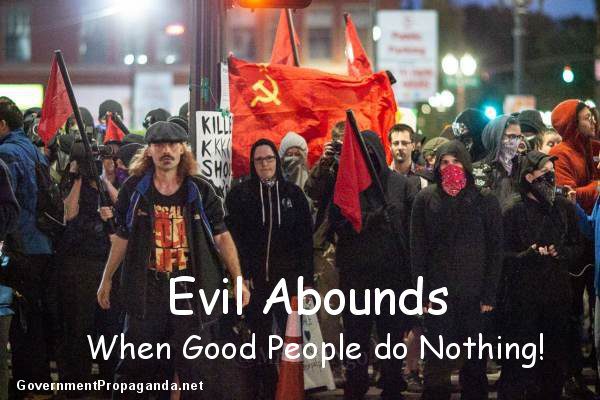 Copy from Gateway Pundit -Antifa splinter cells are planning a day of terrorism across the country in retaliation for the feds doing the job that Portland police won't do after they took control of the rioting mobs. Tomorrow, Saturday, July 25th, is being dubbed J25, and actions are planned in several cities.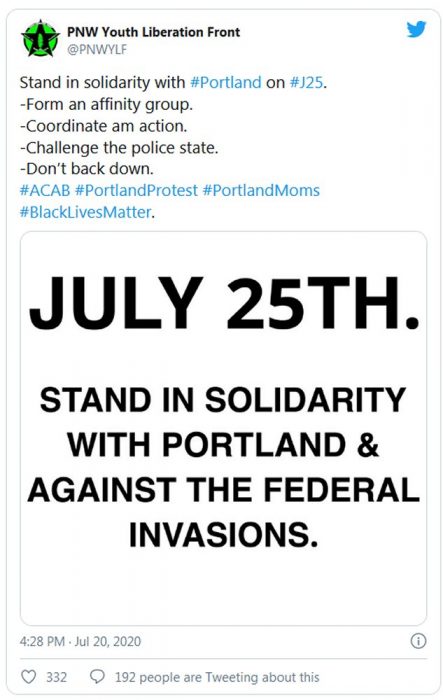 Traitors, Invaders, Infiltrators and Destroyers of all that is Good!
The central group appears to be Pacific Northwest Youth Liberation Front, which is organizing the main event in Portland. From the Facebook event page:
Happening anywhere and everywhere, organize an action if there isn't one in your area!

July 25th: Call for a Day of action in solidarity with Portland & against the Federal invasion.

TRENDING: This Weekend: Please Send Us Photos of Leftist Mob Violence and Rioting from Your City — We Want to Expose the Democrat Destruction Next Week

Youth abolitionists are calling for a national and global march against the institution of policing. We are demanding justice for George Floyd, Breonna Taylor, Stephon Clark, Philando Castille, Eric Garner, Quanice Hayes, Patrick Kimmons, Sean Monterrosa and the thousands more taken by the hands of racist police. Time and time again, the neo-liberal state has offered promises of "reform" with no real action ever taken. The time for discussing reform is over, we need full abolition for our communities to be safe and free from rampant police terror.

We are calling on all abolitionists, youth or non youth, to coordinate mass protests on July 25th to show the world that the fire of this uprising is still burning strong, and that flames will just keep getting bigger until the police state has been dismantled once and for all.

This call to action comes right after Trump has announced he will be sending the federal troops that have been occupying Portland, Oregon, all across the nation. The Federal Government has already waged war against Portland, which has been protesting everyday for 50 days straight, and now feds are going to war against protesters everywhere in an attempt to take control and snuff out the fire of this uprising. We must become more powerful than them.

Form an affinity group.

Do you consider Antifa a terrorist organization?

Coordinate an action.

Get tactical.

Mask up.

Bring a friend.

Show up.

-PNW Youth Liberation Front.
-Marin Youth Liberation Front.
​​​​​​​-Tennessee Youth Liberation Front.
​​​​​​​-Direct Action Alliance.
-Maryland Youth Liberation Front.
-Olympia Youth Liberation Front

•Oakland action: 7:30pm, Grant Oscar Plaza.
•Tacoma action: July 24th, 2pm, tollefson plaza.
•Seattle: July 25th, 1pm, Pine and Broadway.
•Portland: July 25th, 8pm, Alberta Park.
•Salem: 6pm, Oregon State Capitol.
•New Jersey: at Fraternal Order of Police Lodge 12, 6pm.
•Washington DC: DuPoint circle, 6pm.
•Eugene, OR: 8:00pm, federal courthouse.
•Los Angeles: 4:30pm, LA city hall.
•Richmond, VA: July, 25th, location TBD.
•Las Vegas: Bellagio fountains, 7pm.
Their call has since grown to many other cities across the country. It's Going Down reports:
Since the end of May, demonstrators opposing police violence and white supremacy have thronged the streets of Portland, Oregon, clashing with law enforcement officers. Last week, aspiring autocrat Donald Trump escalated the situation by announcing that he would be sending federal agents around the country to assert his authority through acts of violence against protesters. The past few days have seen thousands sweep into the streets of Portland to defend those who were already protesting and demand the departure of Trump's federal agents from their city.

Now participants in the movement in Portland are calling for solidarity actions starting this Saturday, on July 25. The following statement from several Portland organizations—including (Pop)ular (Mob)ilization, Portland Rising Tide, the Revolutionary Abolitionist Group, Colectivo X, and Symbiosis PDX—entreats everyone who has been inspired by the determination and endurance of demonstrators in that city to spread the struggle countrywide, just as Donald Trump hopes to deploy federal forces everywhere.
---
If you go to the store to buy Meat, don't run to the Milk section or the Junk Food aisle looking for it!!
The Meat Section is the
True Gospel of Jesus Christ
.
The Milk Section is likened to those who will not preach on sin and
Hell
, just a feel good message, the Social gospel.
The Junk Food Isle is the outright false doctrine AKA the prosperity gospel, name it and claim it, the Hebraic Roots movement and other false teachings!!
Feasting on just Milk and Junk will eventually cause you great harm, you can count on it!!
---
If you appreciate what this Ministry is doing to Expose the Fake Christians, Satanists, Witches, Communist/Socialist Democrats, R.I.N.O Republicans and the assault on our Conservative, True Christian values,
please consider a small donation
to help us continue and expand. This Ministry is not only under attack by the Enemy, we are now under attack from supposed Christians also. It is what
Tom Horn calls 'Blood on the Altar"
!