Another War Criminal and all around no good Bastard (Hebrews 12:8) has finally gotten what he deserves.There may be a .001% chance that he repented, but we will just have to wait until the Lord returns to find out for sure!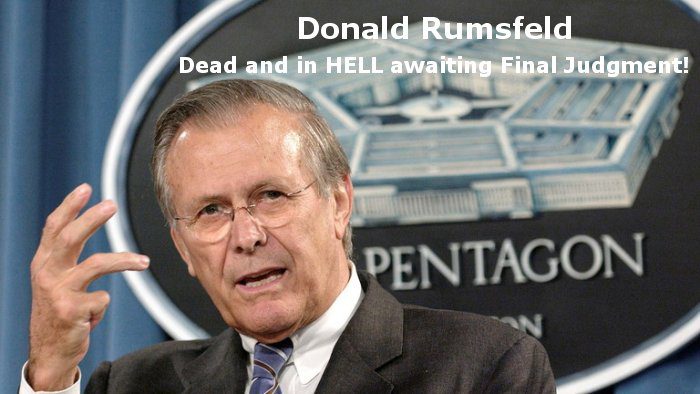 See info on George H.W Bush – Traitor John McCain and Wicked Witch Ruth Bader Ginsburg
See Ben Garrison Comment here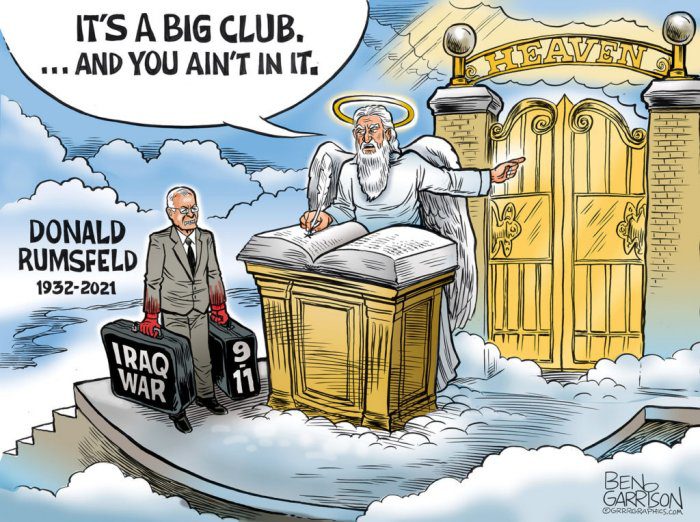 I saw up close how Rumsfeld deliberately caused the deaths of US troops for personal gain. He deserves a special place in hell 
Scott Ritter – In my time as a US intelligence officer and UN weapons inspector, I was twice privy to the former US defense secretary's MO: to manufacture and manipulate 'intelligence' so as to start wars. The Devil will need to watch his back.

While I never met Donald Rumsfeld in person, our paths crossed indirectly on several occasions. What I learnt from these experiences hardened my heart toward a man who caused so much harm based on actions that placed ambition over integrity.

In the days following my September 3, 1998, testimony before a joint session of the Senate Armed Forces and Foreign Affairs Committees, where I challenged the US government's inconsistent policies regarding the disarmament of Iraq, I received a letter from the former defense secretary. When I heard yesterday that Rumsfeld had passed away at the age of 88, I re-read the letter and ruminated about the man who wrote it, and how I felt about him in retrospect. Read more here
Warmonger
Farewell to Donald Rumsfeld, Dreary War Criminal
Rumsfeld managed to do terrible things throughout his life while remaining tremendously banal.

At 2:40 p.m. on September 11, 2001, Secretary of Defense Donald Rumsfeld issued orders to one of his underlings. Among Rumsfeld's thoughts:

Best info fast.
Good enough
judge whether good enough
hit SH @ same time
not only UBL

And:
Near term target needs –
– go massive – sweep it all up
– Things related & not

That is, less than six hours after the first plane hit the north tower of the World Trade Center, Rumsfeld was anxious to "hit SH [Saddam Hussein] @ same time." And he wasn't especially concerned whether Iraq or any target was responsible for the attacks. He wanted to conduct "massive" attacks on targets "related & not" (emphasis in original). That is, he saw the deaths of thousands of Americans as a wonderful opportunity to do whatever the George W. Bush administration wanted.

At that moment, Rumsfeld was doing what he did best throughout his life: spinning the unspeakable suffering of others into the desired ends of himself and his political allies. Read more here
This Luciferian Bastard (Hebrews 12:8 and the reason for being in Hell) is responsible for getting the neurotoxin aspartame on the market.
Are there different levels of punishment in hell?
The idea that there are different levels of punishment in hell is graphically portrayed in The Divine Comedy, written by Dante Alighieri between 1308 and 1321. In that poem, the Roman poet Virgil guides Dante through the nine circles of hell. The circles are concentric, representing a gradual increase in wickedness, and culminating at the center of the earth, where Satan is held in bondage. Each circle's sinners are punished in a fashion befitting their crimes. Each sinner is afflicted for all of eternity by the chief sin he committed. According to Dante, the circles range from the first circle, where dwell the unbaptized and virtuous pagans, to the very center of hell reserved for those who have committed the ultimate sin—treachery against God.
Although the Bible does not specifically say there are different levels of punishment in hell, it does seem to indicate that the judgment will indeed be experienced differently for different people. In Revelation 20:11–15, the people are judged "according to what they had done as recorded in the books" (Revelation 20:12). All the people at this judgment, though, are thrown into the lake of fire (Revelation 20:13–15). So, perhaps, the purpose of the judgment is to determine how severe the punishment in hell will be.
A clearer passage is Luke 10, where Jesus speaks of comparative punishment. First, Jesus says this about a village that rejects the gospel: "I tell you, it will be more bearable on that day for Sodom than for that town" (verse 12). Then He speaks to Bethsaida and Chorazin: "It will be more bearable for Tyre and Sidon at the judgment than for you" (verse 14). Whatever punishment the former residents of Sodom, Tyre, and Sidon were experiencing in hell, the Galilean towns that refused to hear Christ would experience more. The level of punishment in hell seems to be tied to the amount of light a person rejects.
Another indication that hell has different levels of punishment is found in Jesus' words in Luke 12: "The servant who knows the master's will and does not get ready or does not do what the master wants will be beaten with many blows. But the one who does not know and does things deserving punishment will be beaten with few blows. From everyone who has been given much, much will be demanded; and from the one who has been entrusted with much, much more will be asked" (verses 47–48).
Whatever degrees of punishment hell contains, it is clear that hell is a place to be avoided.
Unfortunately, the Bible states that most people will wind up in hell: "Wide is the gate and broad is the road that leads to destruction, and many enter through it. But small is the gate and narrow the road that leads to life, and only a few find it" (Matthew 7:13–14). The question one must ask is "which road am I on?" The "many" on the broad road have one thing in common—they have all rejected Christ as the one and only way to heaven. Jesus said, "I am the way and the truth and the life. No one comes to the Father except through me" (John 14:6). When He said He is the only way, that is precisely what He meant. Everyone following another "way" besides Jesus Christ is on the broad road to destruction, and the suffering is hideous, dreadful, eternal, and unavoidable. Source: Got Questions
---
If you go to the store to buy Meat, don't run to the Milk section or the Junk Food aisle looking for it!!
The Meat Section is the
True Gospel of Jesus Christ
.
The Milk Section is likened to those who will not preach on sin and
Hell
, just a feel good message, the Social gospel.
The Junk Food Isle is the outright false doctrine AKA the prosperity gospel, name it and claim it, the Hebraic Roots movement and other false teachings!!
Feasting on just Milk and Junk will eventually cause you great harm, you can count on it!!
---
If you appreciate what this Ministry is doing to Expose the Fake Christians, Satanists, Witches, Communist/Socialist Democrats, R.I.N.O Republicans and the assault on our Conservative, True Christian values,
please consider a small donation
to help us continue and expand. This Ministry is not only under attack by the Enemy, we are now under attack from supposed Christians also. It is what
Tom Horn calls 'Blood on the Altar"
!