Did we just perform a Time Warp Maneuver and go back to the 70's? Spock did NOT program the breaking thrusters right!
More than 1,000 gas stations run out of fuel 'We know that we have gasoline; we just have to get it to the right places,' she said.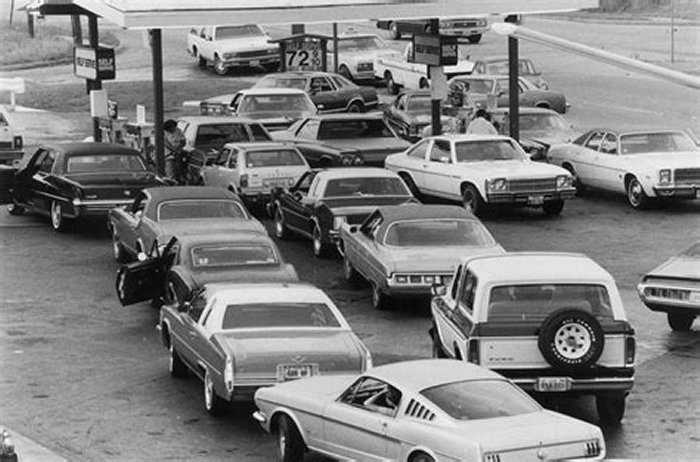 I wanted to go back, but I did want not drag everything back with me! Don't want my family to endure the Democrat Hell that Jimmy the Peanut Carter and his gang of marauders put the country through.
Oh sorry, the same ones in charge NOW, are the same ones that were back then!! My Bad! 
Ecclesiastes 1:9-11 "The thing that hath been, it is that which shall be; and that which is done is that which shall be done: and there is no new thing under the sun. 10 Is there any thing whereof it may be said, See, this is new? it hath been already of old time, which was before us. 11 There is no remembrance of former things; neither shall there be any remembrance of things that are to come with those that shall come after."
It's Only Been 4 Months: Keystone Pipeline is Shut Down, Gas Prices Are Highest in 6 Years, Gas Stations Are Out of Gas, And Gas Lines in Several States – Nice Work, Joe!

Jim Hoft | Gateway Pundit – On Joe Biden's first day in office, he shut down construction of the Keystone Pipeline.
Canceling the Keystone Pipeline costs over 11,000 construction jobs and 42,100 jobs throughout the US during the construction process
Joe Biden Killed More Jobs in January with His Executive Orders than the Economy Created in Same Month
Joe Biden, sidekick AOC and Democrats forced imports from anti-American regimes like Russia and Venezuela.
The US now has record gas prices, the highest in six years since Barack Obama.
There are now gas lines across the southern US.
JUST IN: Gas prices reach a national average of $2.99 per gallon, the highest national average in 6 years

— Breaking911 (@Breaking911) May 11, 2021
On a personal note — a friend traveling in Mississippi says the gas stations are out of gas.
It took only FOUR MONTHS for Joe Biden to ruin the US.
Biden's First 100 Days Accomplishments:

– Kill Keystone XL Pipeline
– Gas Lines
– $3 Gas (National Avg)
– Inflation
– Crumbling Dollar
– Rising Unemployment
– Open Border Crisis
– Antifa Terror Squads
– Skyrocketing Homicides
– Israel Burning
– China Rising
– Vaccinated Masking

— Benny (@bennyjohnson) May 11, 2021
---
If you go to the store to buy Meat, don't run to the Milk section or the Junk Food aisle looking for it!!
The Meat Section is the
True Gospel of Jesus Christ
.
The Milk Section is likened to those who will not preach on sin and
Hell
, just a feel good message, the Social gospel.
The Junk Food Isle is the outright false doctrine AKA the prosperity gospel, name it and claim it, the Hebraic Roots movement and other false teachings!!
Feasting on just Milk and Junk will eventually cause you great harm, you can count on it!!
---
If you appreciate what this Ministry is doing to Expose the Fake Christians, Satanists, Witches, Communist/Socialist Democrats, R.I.N.O Republicans and the assault on our Conservative, True Christian values,
please consider a small donation
to help us continue and expand. This Ministry is not only under attack by the Enemy, we are now under attack from supposed Christians also. It is what
Tom Horn calls 'Blood on the Altar"
!