FBI declassified files: Frank Sinatra was a sex-slave trafficker and used mobster ties to get JFK elected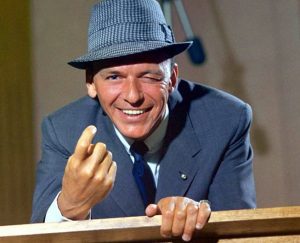 Singer, actor and producer Francis Albert Sinatra was one of the most popular and influential musical artists of the 20th century, and one of the best-selling music artists of all time, having sold more than 150 million records worldwide.
Sinatra was a political activist, beginning with his campaign for the election of Franklin D. Roosevelt. For someone with extensive and close ties to organized crime, it is curious that so many U.S. presidents chose to be friends with him. Sinatra was especially close to President John F. Kennedy, often inviting him to Hollywood and Las Vegas, where the two would womanize and party together. Beginning in the early 1970s, Sinatra switched his support to Republicans, endorsing Richard Nixon and Ronald Reagan. In 1985, President Reagan presented Sinatra with the Presidential Medal of Freedom.
The extent of Sinatra's criminality is now more fully revealed in the FBI's declassified 1,300-page case file on the actor/singer. The case file is prefaced with these remarks:
Francis "Frank" Albert Sinatra (1915-1998), singer and actor, appears in many FBI files. He was the target of many extortion attempts that the FBI investigated. Sinatra also appeared in FBI files in connection with his contacts with racketeering investigation subjects and his early involvement with the Communist Party in Hollywood. The dates of these files fall between 1943 and 1985.
Below are some notable discoveries revealed in the FBI Case File:
(1) Sinatra was Psychologically disturbed
In his physicial examination for Selective Service, Sinatra was diagnosed with "severe psychoneurosis" and "emotional instability". During the psychiatric interview for his physical examination, Sinatra said he was "neurotic, afraid to be in crowds, afraid to go in elevator, had somatic ideas and headaches," had been "very nervous for four or five years," and awaken "tired".
Sinatra received a 4-P classification because of an ear ailment. The FBI looked into Sinatra's Selective Service because of an anonymous letter claiming that he had paid $40,000 to procure a 4-P classification. The FBI concluded that Sinatra was properly rejected from military service. (Source: Part 1 of FBI Case File on Frank Sinatra)
(2) Arrests
On November 26, 1938, Sinatra was arrested in Hackensack, NJ, on a charge of "seduction" (sexual intercourse under the promise of marriage), which was dismissed after the complainant was discovered to have been married (and thus could not have been seduced under the promise of marriage). On December 22, 1938, Sinatra was arrested on a charge of adultery. The complaint was dismissed after a grand jury returned a "no-bill". Sinatra's attorney at the time, Harry L. Tone, became a U.S. Congressman representing the 7th district of New Jersey. (Source: Part 1 of FBI Case File)
(3) Extortion
FBI memo of March 15, 1971 names Sinatra as among those (9 of whom were members of La Cosa Nostra or mafia) who were "involved in an attempt to extort $100,000" from former stockbroker Ronald Alpert "by the use of physical force and by threatening Alpert's life".
Another FBI document, on July 22, 1971, names Sinatra as among a list of 11 names who had engaged in "interstate transportation in aid of racketeering-extortion". (Source: Part 1 of FBI Case File)
(4) Loan kickback
In 1963, the FBI conducted a criminal investigation of Cal-Neva Lodge's securing a $8 million loan from the Teamsters Union Pension Fund. Cal-Neva was a casino in Lake Tahoe, Nevada. Sinatra, a principal owner of Cal-Neva, denied any payment of kickbacks. The investigation was closed when the Teamsters Union Pension Fund rejected the loan application. (Source: Part 1 of FBI Case File)
(5) Association with organized crime
Frank Sinatra was known for his mafia connections, associating with known mobsters including Ralph Capone, Charles "Lucky" Luciano, Mickey Cohen, the Fischetti brothers, Sam Giancana and many other mobsters. Sinatra was suspected of being a courier of mob money for Las Vegas casinos.
As an example, an FBI informant "of unknown reliability" claimed that Sinatra was Chicago gambler Capone's nephew, and that Capone "brought Sinatra out of obscurity by buying him a night club job and paying representatives of the press for favorable publicity" (source: Part 3 of FBI Case File). Another account claimed that Chicago mobster Joe Fischetti was instrumental in getting Sinatra started in show business (Part 11 of FBI Case File). Sinatra also was a major stockholder of the Sands Hotel, Las Vegas. According to the FBI's Salt Lake City Office, many of Sands Hotel's stockholders worked for notorious gangsters and racketeers (Part 5 of FBI Case File).
According to one FBI source, Sinatra enjoyed being surrounded by hoodlums and would himself be one if he had the courage. (Part 12 of FBI Case File)
Below is a summary of Sinatra's "long association" with "prominent hoodlums and racketeers" in the FBI memorandum of April 17, 1964 (source: Part 6 of FBI Case File):
(6) Communist?
In 1955, the FBI conducted a "security-type investigation" which found that Sinatra's name had either been lent to or associated with 16 communist-front or communist-infiltrated groups during the early and mid-1940s. The investigation, however, did not uncover any information that Sinatra himself was a member of any Communist Party or communist front organization. (Part 11 of FBI Case File)
(7) The Kennedy Connection
Sinatra knew President John F. Kennedy's father, Joseph Kennedy, and was said to have used his mob connections to get JKF elected President.
Sinatra knew and introduced Judith Campbell, JFK's alleged mistress.
Curiously, Sinatra seemed to have known Jack Ruby, who killed JFK's alleged assassin Lee Harvey Oswald.
Allegedly, Sinatra's "associates" got JFK's brothers, Ted and Bobby Kennedy, "in compromising situations with women".
Sources for the above screenshots: Part 9 and Part 10 of FBI Case File.
According to Radar Online's Dec. 28, 2017 article, "Insane Frank! Sinatra's Sleazy Sex Romps & Mob Ties Exposed In Explosive FBI FBI Files":
The "My Way" singer met John F. Kennedy in the late 1950s and worked on his presidential campaign. FBI files alleged they engaged in wild sex orgies with women in hotels across the country.

Agents wanted to bug Frank's Palm Springs home, but their request was denied.

The feds investigated Frank in a "White Slave Traffic Case." They believed he provided girls for wild sex orgies with JFK and other celebs — and reported "unnatural sex acts" took place at the parties.
Posted with permission from Fellowship of the Minds
---
If you go to the store to buy Meat, don't run to the Milk section or the Junk Food aisle looking for it!!
The Meat Section is the
True Gospel of Jesus Christ
.
The Milk Section is likened to those who will not preach on sin and
Hell
, just a feel good message, the Social gospel.
The Junk Food Isle is the outright false doctrine AKA the prosperity gospel, name it and claim it, the Hebraic Roots movement and other false teachings!!
Feasting on just Milk and Junk will eventually cause you great harm, you can count on it!!
---
If you appreciate what this Ministry is doing to Expose the Fake Christians, Satanists, Witches, Communist/Socialist Democrats, R.I.N.O Republicans and the assault on our Conservative, True Christian values,
please consider a small donation
to help us continue and expand. This Ministry is not only under attack by the Enemy, we are now under attack from supposed Christians also. It is what
Tom Horn calls 'Blood on the Altar"
!