They never thought that their Cabal would loose. Hillary was promised in 2008, when she bowed to the Muslim Obama, that she would be the first woman president in 2016.
Cabal: the contrived schemes of a group of persons secretly united in a plot (as to overturn a government)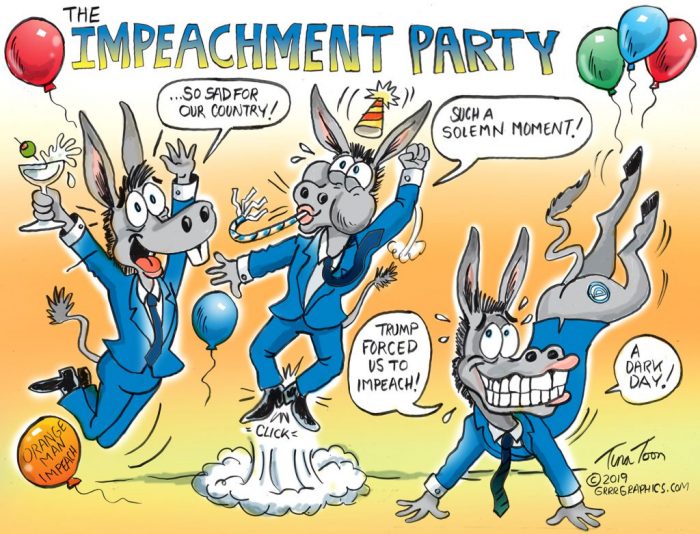 Well, the globalists plans were thwarted by GOD himself, and HIS choice, an outsider, Donald J. Trump, who does not take the globalists crap was elected!
Now they are plotting and maneuvering to install that Wicked Witch Hillary Clinton once again. Fellow Witch Nasty Nancy Pelosi, along with the underling devils, are doing their best to make it happen. It is right out in the open for all to see as they are no longer hiding what they are trying to do.
This is not new "News". Some like Alex Jones, Roger Stone as well as Mike Adams have been saying it since Donald Trump was elected. 
Half of the population is to damn stupid, mind controlled and manipulated to see what is going on. They are being conned by the Fake News Outlets, Social Media, Communist Propagandists and the Ass Clown Democrats in government.

The good news is that every day the scales over their eyes, the plugs in the ears, are falling off of some of the deceived so they can see and hear clearly. 
Will it be enough to make sure that the wicked ones do not regain power? Only God knows and time will tell!! You must NOT lay idle! You must get in the game and fight as hard as you can — NO MATTER IF YOU OFFEND AND LOSE FAMILY AND FRIENDS!!!

A Plot To Make Pelosi President? Now Adam Schiff Wants To Go After Vice-President Mike Pence
Michael Snyder – I was really hoping that this wouldn't happen. Within hours of President Trump being impeached by the House, the mainstream media was reporting that Adam Schiff "has declared war" on Mike Pence. At this time of the year, most Americans are celebrating holidays and spending time with their families, but Adam Schiff continues to be deeply focused on his twisted obsession to take down the Trump administration. When Rachel Maddow asked him if he was "actively looking at Vice President Mike Pence and his role in this scandal", Schiff made it quite clear that he has targeted Pence. Is Schiff doing this because he wants "justice", or is there some deeper plot afoot?

Before we get into the specifics, let's talk about a hypothetical scenario in which Nancy Pelosi could actually become the President. If President Trump is removed from office by the Senate, Vice-President Mike Pence would move into the Oval Office and a replacement for Pence would be nominated. But if Trump and Pence were both impeached and removed from office before a new Vice-President could be nominated and confirmed, then the next in line for the presidency would be Speaker of the House Nancy Pelosi.

In other words, if Trump and Pence were both suddenly out of the picture, Nancy Pelosi would become the President of the United States.

We have never actually seen the speaker of the House become the president in such a manner, and such a scenario would appear to be exceedingly unlikely, but it could hypothetically happen.

Up to now, the efforts by the Democrats to get rid of Trump have not gone well. According to a brand new survey that was just released, only 42 percent of all Americans support removing Trump from office at this point. And it is likely that support for removing Vice-President Pence from office would be even lower.

So why would the Democrats even bother trying?

I certainly can't explain why Schiff suddenly has such a desire to go after Pence, because it doesn't seem to be rational. According to the Daily Mail, Schiff has made the decision to declare "war" on Pence…

House Intelligence Committee chairman Adam Schiff has declared war on Vice President Mike Pence, barely a week after his panel finished its hearings on the impeachment of President Donald Trump.

As an impeachment vote loomed Wednesday, Schiff demanded Pence's office declassify documents that he claims could show the vice president knee-deep in the Ukraine scandal that has brought Trump to the brink.

What Schiff is particularly obsessed about is a phone call between Vice-President Pence and Ukrainian President Volodymyr Zelensky on September 18th.

Pence's adviser Jennifer Williams listened in on that call, and she testified about it behind closed doors to Schiff's committee. Her testimony was later classified, and Schiff has been badgering Pence to have it declassified. The following comes from the National Review…

Pence's Russia adviser Jennifer Williams testified last month about the vice president's September 18 phone call with Ukranian President Volodymyr Zelensky. Schiff requested ten days later that Pence declassify her testimony, contained in a November 26 letter from her lawyer, but Pence last week declined to do so in a letter to Schiff.

On Tuesday, Schiff sent a letter to Pence alleging that the testimony given by Williams "raises profound questions about your knowledge of the President's scheme to solicit Ukraine's interference in the 2020 U.S. presidential election".

In other words, Schiff is inferring that Vice-President Pence "abused his power" just like Trump supposedly did.

During a subsequent appearance on the Rachel Maddow Show, Schiff was specifically asked if he was "actively looking" at Vice-President Pence…

Are you actively looking at Vice President Mike Pence and his role in this scandal? And should we expect further revelations either related to the vice president or related to the other core parts of these allegations that have resulted in this impeachment tonight?

In response, he gave an answer that was classic Schiff …

Well, we have acquired a piece of evidence, classified submission by Jennifer Williams, something that she alluded to in her open testimony that in going back and looking through her records, she found other information that was pertinent to that phone call that we asked her about and made that submission. There is nothing that should be classified in that submission but yet, the vice president's office has said they're going to assert classification, or it's classified.

It is not proper to classify something because it would be embarrassing or incriminating, and that summation does shed light on the vice president's knowledge, and we think the American people should see it. Certainly, any senators in the trial should have access to it.

Schiff has got to realize that his actions are deeply dividing America, and the drama currently unfolding in Washington could set in motion a series of events that could tear this nation apart.

So why is he doing it?

Well, there is always the possibility that he could be so deluded that he actually believes that he is doing the right thing. And if he truly believes that he is seeking to have justice done, then that would help to explain why he just won't let this thing go.

But the truth is that Schiff's sick obsession with taking down the Trump administration goes back long before this Ukraine scandal first broke wide open.

Like so many other Democrats, he just can't stand to see Donald Trump in the White House, and he won't rest until he is gone for good.

If the Democrats could find a way to get Trump removed from office early next year, that would throw the Republican Party into a state of utter chaos and would give Democrats a massive edge heading into November 2020. And if they could get Mike Pence removed from office early next year as well, that would make it even tougher for the Republican Party.

In the end, maybe that is what all of this is primarily about. Yes, getting Nancy Pelosi into the White House would be a nice side benefit, but maybe what the Democrats really want to do is to keep Trump from winning again in 2020 by any means necessary.

Unfortunately for the Democrats, nothing they are doing is working.

It looks like Trump is going to be acquitted by the Senate, public approval for impeachment has been falling, and Trump now has a lead against all potential Democratic contenders.

If the Democrats had never attempted to remove Trump, they would have had a great chance of winning the White House next November.

But they just couldn't resist, and so they have set the stage for a major political disaster for the Democratic Party less than a year from now.
---
If you go to the store to buy Meat, don't run to the Milk section or the Junk Food aisle looking for it!!
The Meat Section is the
True Gospel of Jesus Christ
.
The Milk Section is likened to those who will not preach on sin and
Hell
, just a feel good message, the Social gospel.
The Junk Food Isle is the outright false doctrine AKA the prosperity gospel, name it and claim it, the Hebraic Roots movement and other false teachings!!
Feasting on just Milk and Junk will eventually cause you great harm, you can count on it!!
---
If you appreciate what this Ministry is doing to Expose the Fake Christians, Satanists, Witches, Communist/Socialist Democrats, R.I.N.O Republicans and the assault on our Conservative, True Christian values,
please consider a small donation
to help us continue and expand. This Ministry is not only under attack by the Enemy, we are now under attack from supposed Christians also. It is what
Tom Horn calls 'Blood on the Altar"
!