Well, according to Crooked Hillary's Campaign!
Just like the Muslims they love and import, the dogs have finally turned and are attacking each other! PRAISE GOD!

Hillary TOOK OVER the DNC according to Dirty Donna Brazile!
Clinton Campaign Officials Made Her Feel Like "Patsey The Slave"
Dirty Donna does not want to be Arkancided! Donna Brazile Says She "Feared For Her Life" After Seth Rich Was Killed
Then after the death threats came in:
Dirty Donna Brazile's attempt to walk back 'rigging' bombshell gets blown up by her own book
Clinton Campaign Accuses Donna Brazile Of Spreading 'False Russian-Fueled Propaganda'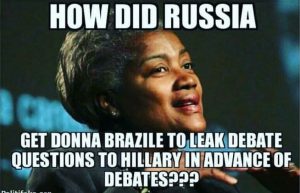 The Daily Caller – Hillary Clinton's presidential campaign responded to former Democratic National Committee (DNC) Chair Donna Brazile's criticisms of the Clinton campaign, including the charge the campaign essentially rigged the 2016 primaries.
"It is particularly troubling and puzzling that she would seemingly buy into false Russian-fueled propaganda, spread by both the Russians and our opponent, about our candidate's health," reads a letter published online Saturday that was signed by former Clinton campaign officials, including Huma Abedin, Robby Mook, Jennifer Palmieri and John Podesta.
Brazile wrote an op-ed Thursday for Politico, claiming the DNC entered into an agreement that gave the Clinton campaign de facto control of the Democratic Party during the presidential primaries. Brazile also criticized former President Barack Obama for leaving the DNC buried in debt.
Read more at the Daily Caller