Hillary Clinton Falls, Breaks Toe, Apologizes For Canceling Interviews
Failed to appear to multiple interviews to promote her book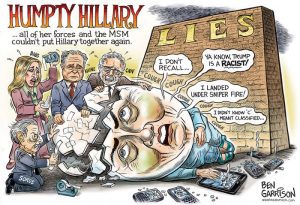 InfoWars – Hillary Clinton was forced to apologize today when she missed multiple media appearances after breaking her toe.
The Former Secretary of State was set to appear on BBC Women's Hour, ITV's This Morning and to film for the BBC's Graham Norton Show.
But she was forced to delay and cancel numerous appearances.
She told the Graham Norton Show: "I was running down the stairs in heels with a cup of coffee in hand, I was talking over my shoulder and my heel caught and I fell backwards.
"I tried to get up and it really hurt. I've broken my toe. I've received excellent care from your excellent health service."
It is really not her fault, it never is, as she will tell you! It's that damn Broom Stick! It failed and she had to take a few steps thus falling. This video clip shows her sending her helpers out and then getting on said Broom Stick. The video ends abruptly so you do not see the hard landing and the fall where she breaks her toe.