This one seems to have slipped under the radar! The Communist Democrats like her along with the Republican Swamp Creatures.
Pro-Amnesty, Bush Bureaucrat with Ties to 'Never Trump' Movement Confirmed to Lead DHS
Breitbart News – The United States Senate voted to confirm former President George W. Bush bureaucrat Kirstjen Nielsen to lead the Department of Homeland Security (DHS) despite her ties to the "Never Trump" movement and seemingly having no experience working on immigration-related issues.
The Senate confirmed Nielsen in a 62-37 vote on Tuesday, making her the new head of the agency which is tasked with carrying out President Trump's pro-American immigration reform agenda.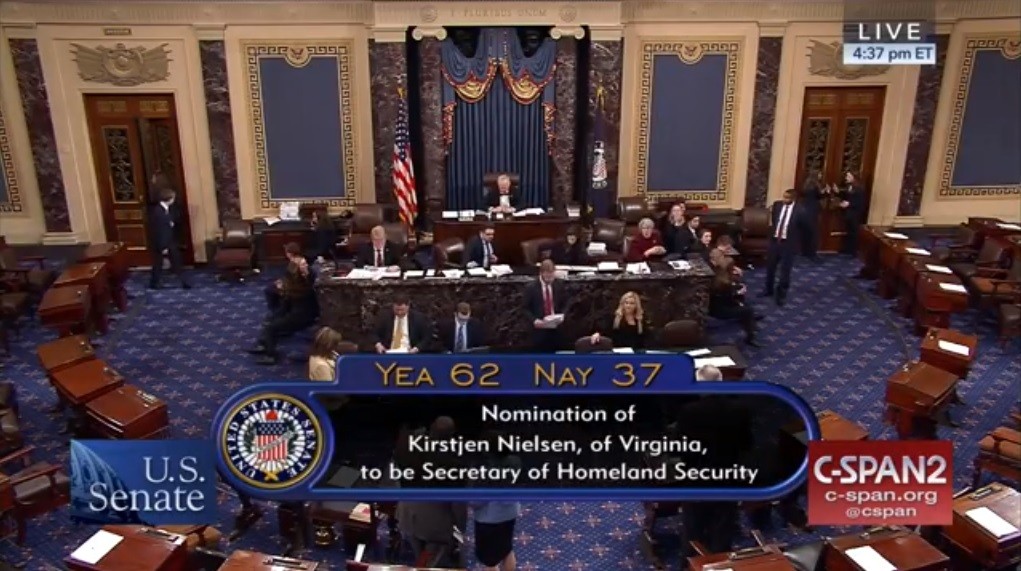 When Nielsen was chosen by Trump to lead DHS, members of the failed "Never Trump" movement, Breitbart News reported, immediately praised her nomination as a win for the national security establishment. Never Trumpers championing Nielsen's nomination included pro-amnesty DHS Secretary Tom Ridge, former Bush official Frances Townsend, and former DHS Secretary Michael Chertoff.
Previously, as Breitbart News extensively reported, Nielsen worked as a special assistant to Bush and as the chair of the World Economic Forum's Global Agenda on Risk & Resilience Committee.
While working for Bush, the administration — immediately following hurricane Katrina in 2005 —  temporarily dismantled pro-American worker laws, such as suspending sanctions for employers who willingly hire illegal aliens, and waving the 1931 Davis-Bacon Act, which mandated that federal contractors pay workers the average regional wage.
See the rest at Breitbart News