James 1:8 "A double minded man (or Woman) is unstable in all his ways."
James 4:7-8 "Submit yourselves therefore to God. Resist the devil, and he will flee from you. 8 Draw nigh to God, and he will draw nigh to you. Cleanse your hands, ye sinners; and purify your hearts, ye double minded."
A double-minded person is restless and confused in his thoughts, his actions, and his behavior. Such a person is always in conflict with himself. One torn by such inner conflict can never lean with confidence on God and His gracious promises. Correspondingly, the term unstable is analogous to a drunken man unable to walk a straight line, swaying one way, then another. He has no defined direction and as a result doesn't get anywhere. Such a person is "unstable in all he does."
Those who are double-minded do not have the faith spoken of in Hebrews 11:1-3 "Now faith is the substance of things hoped for, the evidence of things not seen. 2 For by it the elders obtained a good report.3 Through faith we understand that the worlds were framed by the word of God, so that things which are seen were not made of things which do appear."
By faith we understand that the universe was formed at God's command, so that what is seen was not made out of what was visible." We cannot be both "certain" and doubting, as is the double-minded person. One part of his mind is sure of something, while the other part doubts. It brings to mind the "pushmi-pullyu" of the Dr. Doolittle stories, an animal with a head at either end of its body and which was constantly trying to walk in two directions at once. Such is the double-minded man.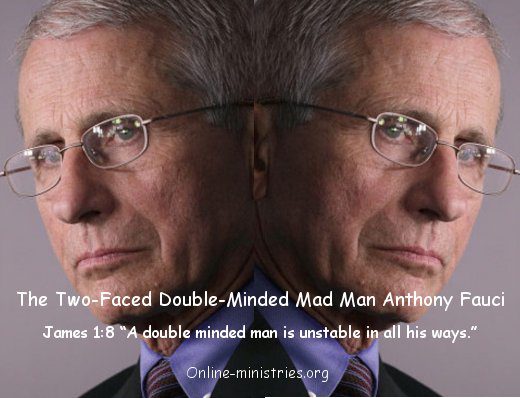 Jesus declared, "No one can serve two masters. Either he will hate the one and love the other, or he will be devoted to the one and despise the other" (Matthew 6:24). God and the things of this world are of such opposite natures that it is impossible to love either one completely without hating the other. Those who try to love both will become unstable in all their ways. If someone struggles with being double-minded, he or she should read, study, and memorize the Word, for it is the Word of God that produces faith (Romans 10:17). And he or she should pray for faith. God freely gives what is good to those who ask Him (Luke 11:9–12), and it's good to ask for an increase of faith (Luke 17:5; Mark 9:24). Source: Got Questions
A Week After Saying 'Wear Two Masks', Fauci Says It 'Won't Make A Difference'
Steve Watson | News Wars – Less than one week after advising Americans that wearing two or even three masks would be 'more effective' against the spread of coronavirus, Dr Fauci has done a complete 180 (again) and admitted that there is no data to suggest it will make any difference.
After Fauci made the comments last week, the media began to push the idea that two masks wasn't enough, and that people need to wear three, or even four masks.
However, during an interview at the weekend, Fauci completely contradicted his own comments from the previous week.
Fauci on double masking:

"There's no data that indicates that that is going to make a difference" pic.twitter.com/ptVivQfuwt

— Eli Klein (@TheEliKlein) January 31, 2021
It shouldn't come as a surprise, given that Fauci has flip-flopped continuously on masks, having originally said that "there's no reason to be walking around with a mask," and that they are little more than symbolic.
Later, Fauci fully embraced the masks and stated that they 'need to stay on' until everyone is vaccinated.
As we previously highlighted, it went from wearing a mask to now wearing two masks being the best way virtue signal.
Why concern yourself with trivial matters such as breathing when the wearing of multiple face coverings is so effective in delivering social media clout?
Don't let the fact that there is no evidence masks do anything get in the way of that dopamine hit.
As people outside the shuttered gates of the dodger stadium vaccine site begging for the vaccine out of fear of a pandemic that won't even bother him, Owen points out the media's involvement in the fear campaign to enforce compliance slavery.
---
If you go to the store to buy Meat, don't run to the Milk section or the Junk Food aisle looking for it!!
The Meat Section is the
True Gospel of Jesus Christ
.
The Milk Section is likened to those who will not preach on sin and
Hell
, just a feel good message, the Social gospel.
The Junk Food Isle is the outright false doctrine AKA the prosperity gospel, name it and claim it, the Hebraic Roots movement and other false teachings!!
Feasting on just Milk and Junk will eventually cause you great harm, you can count on it!!
---
If you appreciate what this Ministry is doing to Expose the Fake Christians, Satanists, Witches, Communist/Socialist Democrats, R.I.N.O Republicans and the assault on our Conservative, True Christian values,
please consider a small donation
to help us continue and expand. This Ministry is not only under attack by the Enemy, we are now under attack from supposed Christians also. It is what
Tom Horn calls 'Blood on the Altar"
!