Cops say it isn't terrorism, search for motive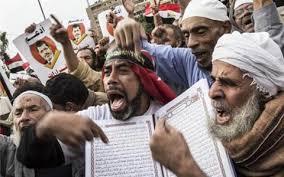 Jihad Watch – "Police are investigating whether the alleged attacker, Mert Nay, 20, from Blacktown in the city's west, had escaped from a mental institution. They do not believe it is a terror-related incident, and said the alleged attacker did not have links to any terrorist organisations – despite witnesses reporting the attacker was muttering religious slogans including 'Allahu Akbar'. NSW Police Commissioner Mick Fuller have said they found information on the man in the form of a USB stick 'suggesting he had some ideologies related to terrorism'."
Australia's Prime Minister Scott Morrison says: "The motivation for this attack has not yet been determined as Police are continuing with their inquiries."
This kind of willful ignorance from authorities is why we're in the fix we're in, all over the free world.
"The dead woman was found inside a Clarence Street apartment, allegedly with her throat slit…"
"When you meet the unbelievers, strike the necks…" (Qur'an 47:4)
Will those who subdued and restrained Mert Nay be charged with "Islamophobia"?
Daily Mail – Blood-soaked man 'shouting Allahu Akbar in Sydney's CBD attempts to stab multiple people – with one woman rushed to hospital and another found dead with throat slit in nearby building," by Charlie Coë, Kelsey Wilkie, Hannah Moore and Daniel Piotrowski, Daily Mail Australia, August 13, 2019:
A blood-soaked man screaming 'Allahu Akbar' has gone on a rampage with a knife through central Sydney – allegedly killing a 21-year-old woman inside a unit and stabbing another in the back at a nearby pub.

The dead woman was found inside a Clarence Street apartment, allegedly with her throat slit, after the knifeman was subdued by heroic bystanders about 2pm using chairs and a milk crate in Wynyard Street after attempting to stab multiple people.

Police are investigating whether the alleged attacker, Mert Nay, 20, from Blacktown in the city's west, had escaped from a mental institution.

They do not believe it is a terror-related incident, and said the alleged attacker did not have links to any terrorist organisations – despite witnesses reporting the attacker was muttering religious slogans including 'Allahu Akbar'.

NSW Police Commissioner Mick Fuller have said they found information on the man in the form of a USB stick 'suggesting he had some ideologies related to terrorism'.

Dramatic footage showed the man, wearing a grey hooded jumper and holding a large knife, jumping on top of a Mercedes while screaming 'shoot me in the head'.

Brave witnesses were able to tackle the man and pin his head down with a milk crate until police arrived and arrested him as hundreds of workers gathered.

Police praised on Tuesday evening the civilians, fire fighters and ambulance staff for preventing 'what could have been a much worse situation'.

NSW Police said the woman's body was found in the unit on Clarence Street at 3.15pm, with a witness saying it was found on the building's fourth floor….

Moments before the attacker was arrested, another woman was found inside the Hotel CBD with a stab wound. She was taken to hospital in a stable condition.

A painter working on a mural near where the man was arrested witnessed him charging down the street with a 'big kitchen knife' with five or six people in close pursuit.

Witness Jess Warren, 35, said she was was having lunch at the Regiment CBD cafe when the knife man was finally arrested.

She told Daily Mail Australia fire and rescue workers wielding an axe and a crowbar, and a few civilians, two brandishing chairs, had given chase before finally restraining him.

'One of the guys who was chasing pushed him in the back, then as he was falling the firies got him in the legs, and then they pinned him down with the chairs,' she said.

'Then they just sat on him until the cops came.'

'People couldn't believe it, then everyone started standing on their chairs to see over the crowd.'…

Ms Hales described the man as being in his late 20s or early 30s, Caucasian and with dark curly hair….

Prime Minister Scott Morrison has described the incident as 'deeply disturbing' while commending the bravery over the bystanders who stepped in to help.

'The violent attack that took place in Sydney this afternoon is deeply concerning. The attacker is now in police custody following the brave actions of those who were present at the scene and were able to able to restrain him,' he shared on Twitter.

'The motivation for this attack has not yet been determined as Police are continuing with their enquiries. Any further offical information will be provided by the New South Wales Police, who are keeping us appraised through our agencies, including details of casualties.'…

The knifeman was seen jumping on top of a black Mercedes shouting 'Allahu Akhbar' and brandishing his weapon moments before the businessman ran towards him with a chair.

'Oi,' the businessman yelled, ready with his chair.

'Shoot me, shoot me in the f***ing head,' the knifeman yelled as he stormed through the intersection….
---
If you go to the store to buy Meat, don't run to the Milk section or the Junk Food aisle looking for it!!
The Meat Section is the
True Gospel of Jesus Christ
.
The Milk Section is likened to those who will not preach on sin and
Hell
, just a feel good message, the Social gospel.
The Junk Food Isle is the outright false doctrine AKA the prosperity gospel, name it and claim it, the Hebraic Roots movement and other false teachings!!
Feasting on just Milk and Junk will eventually cause you great harm, you can count on it!!
---
If you appreciate what this Ministry is doing to Expose the Fake Christians, Satanists, Witches, Communist/Socialist Democrats, R.I.N.O Republicans and the assault on our Conservative, True Christian values,
please consider a small donation
to help us continue and expand. This Ministry is not only under attack by the Enemy, we are now under attack from supposed Christians also. It is what
Tom Horn calls 'Blood on the Altar"
!