Although the Bible predicts the Destruction of Damascus and can't be changed, the reason why is nefarious. Greed and the Murder of Christians is the likely reason!
It is the same reason they cooked up the Osama Bin Laden lie to take over Afghanistan! The Taliban would not let a pipeline be built across Afghanistan!
Your News Wire – Syria has been at the center of a decades-long plot by the United States to remove its sovereign government and install one supportive of its business goals in the Middle East.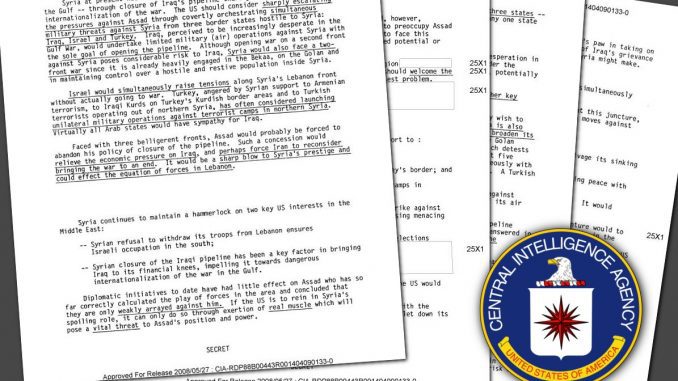 According to declassified CIA documents, plans were made to completely destroy the Syrian government as far back as 1983 in order to secure their oil supply.

The documents contained in the U.S. National Archives and drawn up by the CIA reveal plans by the Washington Deep State to completely destroy the Syrian government.
As the world awaits the continuation of the Syrian war, its origins go back to the Republican Bush administration, showing that there is an overarching agenda and an overarching infrastructure of an oligarchical deep state intent on moving forward with their plan regardless of which party is in power.
It's all about paving the way for an oil and gas pipeline of Washington's choosing.
Activist Post reports:
One such document entitled, "Bringing Real Muscle To Bear In Syria," written by CIA officer Graham Fuller, is particularly illuminating. In this document, Fuller wrote,
Syria at present has a hammerlock on US interests both in Lebanon and in the Gulf — through closure of Iraq's pipeline thereby threatening Iraqi internationalization of the [Iran-Iraq] war. The US should consider sharply escalating the pressures against Assad [Sr.] through covertly orchestrating simultaneous military threats against Syria from three border states hostile to Syria: Iraq, Israel and Turkey.
Even as far back as 1983, Syrian President Bashar al-Assad's father, Hafez Assad, was viewed as a gadfly to the plans of Western imperialists seeking to weaken both the Iraqis and the Iranians and extend hegemony over the Middle East and Persia. The document shows that Assad and hence Syria represented a resistance to Western imperialism, a threat to Israel, and that Assad himself was well aware of the game the United States, Israel, and other members of the Western imperialist coalition were trying to play against him. The report reads,
Syria continues to maintain a hammerlock on two key U.S. interests in the Middle East:

— Syrian refusal to withdraw its troops from Lebanon ensures Israeli occupation in the south;

— Syrian closure of the Iraqi pipeline has been a key factor in bringing Iraq to its financial knees, impelling it towards dangerous internationalization of the war in the Gulf
Diplomatic initiatives to date have had little effect on Assad who has so far correctly calculated the play of forces in the area and concluded that they are only weakly arrayed against him. If the U.S. is to rein in Syria's spoiling role, it can only do so through exertion of real muscle which will pose a vital threat to Assad's position and power.
The author then presents a plan that sounds eerily similar to those now being discussed publicly by Western and specifically American corporate-financier think tanks and private non-governmental organizations who unofficially craft American policy. Fuller writes,
The US should consider sharply escalating the pressures against Assad [Sr.] through covertly orchestrating simultaneous military threats against Syria from three border states hostile to Syria: Iraq, Israel and Turkey. Iraq, perceived to be increasingly desperate in the Gulf war, would undertake limited military (air) operations against Syria with the sole goal of opening the pipeline. Although opening war on a second front against Syria poses considerable risk to Iraq, Syria would also face a two-front war since it is already heavily engaged in the Bekaa, on the Golan and in maintaining control over a hostile and restive population inside Syria.

Israel would simultaneously raise tensions along Syria's Lebanon front without actually going to war. Turkey, angered by Syrian support to Armenian terrorism, to Iraqi Kurds on Turkey's Kurdish border areas and to Turkish terrorists operating out of northern Syria, has often considered launching unilateral military operations against terrorist camps in northern Syria. Virtually all Arab states would have sympathy for Iraq.

Faced with three belligerent fronts, Assad would probably be forced to abandon his policy of closure of the pipeline. Such a concession would relieve the economic pressure on Iraq, and perhaps force Iran to reconsider bringing the war to an end. It would be a sharpening blow to Syria's prestige and could effect the equation of forces in Lebanon.
Thus, Fuller outlines that not only would Syria be forced to reopen the pipeline of interest at the time, but that it would be a regional shockwave effecting the makeup of forces in and around Lebanon, weakening the prestige of the Syrian state and, presumably, the psychological state of the Syrian President and the Syrian people, as well as a message to Iran.
The document continues,
Such a threat must be primarily military in nature. At present there are three relatively hostile elements around Syria's borders: Israel, Iraq and Turkey. Consideration must be given to orchestrating a credible military threat against Syria in order to induce at least some moderate change in its policies.

This paper proposes serious examination of the use of all three states – acting independently – to exert the necessary threat. Use of any one state in isolation cannot create such a credible threat.
The strategy proposed here by the CIA is virtually identical to the one being discussed by deep state establishment think tanks like the Brookings Institution today. For instance, in the Brookings document "Middle East Memo #21: Saving Syria: Assessing Options For Regime Change," it says,
Turkey's participation would be vital for success, and Washington would have to encourage the Turks to play a more helpful role than they have so far. While Ankara has lost all patience with Damascus, it has taken few concrete steps that would increase the pressure on Asad (and thereby antagonize Tehran). Turkish policy toward the Syrian opposition has actually worked at cross-purposes with American efforts to foster a broad, unified national organization. With an eye to its own domestic Kurdish dilemmas, Ankara has frustrated efforts to integrate the Syrian Kurds into a broader opposition framework. In addition, it has overtly favored the Syrian Muslim Brotherhood over all other opposition groups. Washington must impress upon Turkey the need to be more accommodating of legitimate Kurdish political and cultural demands in a post-Asad Syria, and to be less insistent on the primacy of the Muslim Brotherhood.

Some voices in Washington and Jerusalem are exploring whether Israel could contribute to coercing Syrian elites to remove Asad. The Israelis have the region's most formidable military, impressive intelligence services, and keen interests in Syria. In addition, Israel's intelligence services have a strong knowledge of Syria, as well as assets within the Syrian regime that could be used to subvert the regime's power base and press for Asad's removal. Israel could posture forces on or near the Golan Heights and, in so doing, might divert regime forces from suppressing the opposition. This posture may conjure fears in the Asad regime of a multi-front war, particularly if Turkey is willing to do the same on its border and if the Syrian opposition is being fed a steady diet of arms and training. Such a mobilization could perhaps persuade Syria's military leadership to oust Asad in order to preserve itself. Advocates argue this additional pressure could tip the balance against Asad inside Syria, if other forces were aligned properly.
While Syria is not in conflict with Iraq today, after being destroyed by the United States in 2003, Western Iraq now houses the mysteriously-funded Islamic State on the border between Iraq and Syria.
That being said, this plan is not merely being discussed, it is being implemented as one can clearly see by the fact that Israel routinely launches airstrikes against the Syrian military, Turkey continues to funnel ISIS and related terrorists into Syria through its own territory, and ISIS continues to present itself as an Eastern front militarily. As a result, the "multi-front" war envisioned and written about by the CIA in 1983 and discussed by Brookings in 2012 has come to fruition and is in full swing today.
The trail of documentation and the manner in which the overarching agenda of world hegemony on the behalf of corporate-financier interests have continued apace regardless of party and seamlessly through Republican and Democrat administrations serves to prove that changing parties and personalities do nothing to stop the onslaught of imperialism, war, and destruction being waged across the world today and in earnest ever since 2001. Indeed, such changes only make adjustments to the appearance and presentation of a much larger Communo-Fascist system that is entrenching itself by the day.
Source: Your News Wire
---
If you go to the store to buy Meat, don't run to the Milk section or the Junk Food aisle looking for it!!
The Meat Section is the
True Gospel of Jesus Christ
.
The Milk Section is likened to those who will not preach on sin and
Hell
, just a feel good message, the Social gospel.
The Junk Food Isle is the outright false doctrine AKA the prosperity gospel, name it and claim it, the Hebraic Roots movement and other false teachings!!
Feasting on just Milk and Junk will eventually cause you great harm, you can count on it!!
---
If you appreciate what this Ministry is doing to Expose the Fake Christians, Satanists, Witches, Communist/Socialist Democrats, R.I.N.O Republicans and the assault on our Conservative, True Christian values,
please consider a small donation
to help us continue and expand. This Ministry is not only under attack by the Enemy, we are now under attack from supposed Christians also. It is what
Tom Horn calls 'Blood on the Altar"
!