Former Reddit CEO Admits She Knew Maxwell Supplied 'Underage Girls For Sex'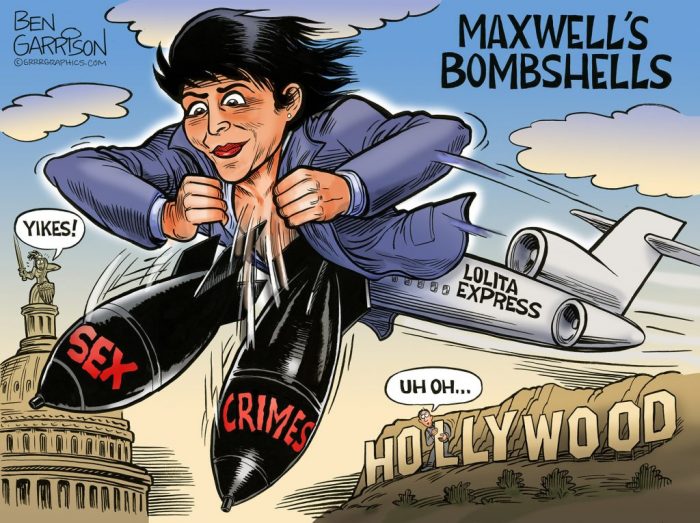 Niamh Harris | News Punch – Former Reddit CEO Ellen Pao has admitted on Twitter that she and others knew Jeffrey Epstein's alleged madam Ghislaine Maxwell was trafficking underage girls for sex as far back as 2011.
Pao attempted to walk back the revelation shortly after making it and has since set her Twitter account to private following responses blasting her for not previously speaking up.
RT reports: The bombshell remark was made by Pao on Monday, as she replied to a tweet mentioning the partner of the late Epstein – and how it was considered "cool" back in the day to be invited to their parties.
"[Maxwell] was at the Kleiner holiday party in 2011, but I had no desire to meet her, much less have a photo taken with her," Pao said in a now-unavailable tweet. "We knew about her supplying underage girls for sex, but I guess that was fine with the 'cool' people who managed the tightly controlled guest list.
I have no idea if you are still awake, but this tweet of yours opened Pandora's box tonight.@Ekp responded to you, got called out, tried some backtracking damage control, and then just gave up and quickly set her account to private. pic.twitter.com/QsiLql3qpo

— Brick Suit (@Brick_Suit) July 6, 2020
Apparently realizing the remark was way too hot, Pao tried to water it down, explaining in a subsequent tweet that it was "the press had described her as supplying underage girls for sex, but she had not been charged so I guess it would be more accurate to say we 'suspected' v 'knew.'
Confronted by a Twitter user who blamed Pao for being "fine with it too," Reddit's ex-CEO seemingly made another revelation. It actually looked even darker than the first one, especially since it came from a first-hand 'party'-goer and not some "conspiracy theorist" keen on uncovering allegedly existing pedophile networks.
"Of course I wasn't. But I was a junior partner on the outside of the inner circle, and what I said made no difference here and in many other decisions."
Unfortunately, Pao did not elaborate further on who exactly was on the "inner circle" or what the "many other decisions" were about. Later in the day, she made her Twitter account private.
Pedophile Jeffrey Epstein's 'Little Black Book' of Famous Clients Published Online
Sean Adl-Tabatabai | News Punch – With Jeffrey Epstein's child sex crimes likely to implicate other high profile figures, a leaked copy of the billionaire pedophile's "little black book" may provide some insight into some of the wealthy people who might feel a little nervous right now.
The book was leaked online after being smuggled out of Epstein's residence by his former house manager, Alfredo Rodriguez, who was arrested after trying to sell it in 2008 for $50,000.
He was charged with obstruction of justice and died in prison after 18 months suffering from a "long illness."
According to an FBI affidavit, Rodriguez described the address book and the information contained within it as the "Holy Grail" or "Golden Nugget" to unraveling Epstein's sprawling child-sex network. But despite having been subpoenaed for everything he had on his former boss, Rodriguez didn't share it with the FBI or Palm Beach Police Department detectives investigating Epstein. Instead, he tried to make a $50,000 score by covertly peddling the black book to one of the attorneys launching lawsuits at Epstein on behalf of his victims. –Gawker
Zerohedge.com reports: According to a 2015 Gawker article, Epstein's little black book contains hundreds of names that a hobnobbing socialite billionaire might keep on hand, however around 50 of the entries were circled by Rodriguez – "including those of many of Epstein's suspected victims and accomplices," according to the report. 
Some of the names in the book include: 
Ralph Fiennes
Alec Baldwin
David Blaine
Jimmy Buffett 
Courtney Love
Charlie Rose
Mike Wallace 
Barbara Walters
Ehud Barak
Tony Blair
David Koch 
John Gutfreund
Prince Andrew
And of course: 
Bill Clinton and Donald Trump
About 50 of the entries, including those of many of Epstein's suspected victims and accomplices as well as Trump, Love, Barak, Dershowitz, and others, were circled by Rodriguez.
…
In addition to the names above, as well as scores of apparent underage victims in Florida, New Mexico, California, Paris, and the United Kingdom listed under the rubric of "massage," the circled entries include:
Billionaire Leslie Wexner

Former New Mexico Governor Bruce King

Former New Mexico Governor and Democratic presidential hopeful Bill Richardson

Peter Soros, the nephew of George Soros

Former Miss Sweden and socialite New York City doctor Eva Andersson Dubin
Some of the circled entries include additional notes—one address in New York City, for instance, is marked as an "apt. for models," and two names bear the marking "witness." –Gawker
When asked why his name might have been circled, longtime Epstein associate Alan Dershowitz said in 2015: "I've never seen the book and I have no idea what it means. I was neither a victim nor a material witness—I never witnessed any crimes or participated in any crimes, and I can prove it."
Dershowitz joined a 2017 motion brought by filmmaker and author Mike Cernovich to unseal records from a 2015 defamation casebrought by Epstein victim Virginia Roberts Giuffre against British socialite Ghislaine Maxwell. Giuffre says Maxwell helped Epstein traffic herself and other underage girls to sex parties at the billionaire pedophile's many residences. 
In a Monday afternoon statement, Bill Clinton's Press Secretary Angel Ureña tweeted that the former president "knows nothing about the terrible crimes Jeffrey Epstein pleaded guilty to in Florida some years ago," and claims that he has only flown on the "Lolita Express" four times, with Secret Service detail "on every leg of every trip."
Trump, meanwhile, was reportedly the "only one" to help a prosecuting attorney representing one of Epstein's alleged victims. The President is also said to have booted Epstein from his Mar-a-Lago club after he was found trying to recruit underage girls. 
One theory on Epstein's racket is described below by Twitter user @quantian1
Epstein's "little black book" can be seen by clicking here.
---
If you go to the store to buy Meat, don't run to the Milk section or the Junk Food aisle looking for it!!
The Meat Section is the
True Gospel of Jesus Christ
.
The Milk Section is likened to those who will not preach on sin and
Hell
, just a feel good message, the Social gospel.
The Junk Food Isle is the outright false doctrine AKA the prosperity gospel, name it and claim it, the Hebraic Roots movement and other false teachings!!
Feasting on just Milk and Junk will eventually cause you great harm, you can count on it!!
---
If you appreciate what this Ministry is doing to Expose the Fake Christians, Satanists, Witches, Communist/Socialist Democrats, R.I.N.O Republicans and the assault on our Conservative, True Christian values,
please consider a small donation
to help us continue and expand. This Ministry is not only under attack by the Enemy, we are now under attack from supposed Christians also. It is what
Tom Horn calls 'Blood on the Altar"
!