#RacconsLivesMatter
Will we see masses of Raccoon's taking to the streets turning over trash cans, hijacking garbage trucks, looting the meat and egg isles at grocery stores? Will me see Opossums, Rats, Squirrels and Chipmunks, Wood Chucks and other rodents descend on cities demanding justice for Rocky the Raccoon? They just might start attacking White people because after all, Orange Man Bad!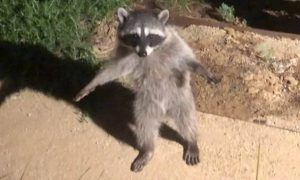 Now I will be the first to admit I am no fan of Coon's. They come in my back yard and try to get at my chickens, and in fact got one recently that did not go in the coup I lock up at night. Came out the next morning and there it laid, just a pile of bones and feathers!
For awhile they were getting into my attic, until finally trapped all of the offending family and relocated them else where. I could have shot them in the head, beaten them to death like these idiots did, or as we did Possums as teenagers riding the roads Possum hunting. 
But I have…, let's say evolved since my days of killing for no reason. The good Lord took care of that when I got Saved, Born Again! That is what these ignorant heathens need. They, as well as ALL people, regardless of gender, race or religion, need Jesus. If that were to happen, you would see ALL of the hatred and division cease! But alas, there is a devil loose!
BLM Supporters Beat Raccoon To Death With Baseball Bat To Protest Cops 'Treating Us Like Animals'
Baxter Dmitry |News Punch – Black Lives Matter supporters ran over a raccoon twice before beating it to death with a baseball bat in a horrific and senseless act of animal cruelty before posting the video online and saying people should "worry about the police killing Black people" and "treating us like animals."
"James Blue", the person who filmed the violence, attempted to justify the animal cruelty by saying that "Black lives matter" and "Only white people worry about animals."
The disturbing incident took place in New York City, as onlookers watched and cheered the sickening attack on a defenseless animal.
The alleged niece of one of the perpetrators replied "Worry about the police killing Black people" before dismissing the brutal and unnecessary killing of the raccoon, saying "only white peoples worry about this."
James Blue's niece says "only white peoples worry about this."https://t.co/GPdOYKMFQj#AllLivesMatter #animals #matter #animalcruelty #raccoons #raccoon #abuse #dogs #doggos #DemConvention #newyork #antifa #terrorists pic.twitter.com/wDB8YISmjs

— Lite Pimp (@litepimp) August 18, 2020
Animal rights activists (Just as big a Lunatics as BLM because they are of the same ILK, my words, not Baxter Dmitry's) are now trying to identify the people in the video, which we must warn is very disturbing. The person who filmed the violence and uploaded it to Facebook uses the name "James Blue" online, but he has disabled his Instagram and Facebook accounts after attracting attention for his vicious actions.
NYC 🇺🇸

We can't save the raccoon, but we can identify everyone involved. @NYPDnews @HumaneSocietyNY @aspca @fox5ny #newyork #NYC #nypd #newyorkpolice #COVID19 #AllLivesMatter #Chicago #animalcruelty #raccoon #abuse #animallivesmatter #saveourchildren pic.twitter.com/9898Rri0HQ

— Lite Pimp (@litepimp) August 18, 2020
"Worry about police killing black people, you're worried about an animal crazy," Blue wrote.
---
If you go to the store to buy Meat, don't run to the Milk section or the Junk Food aisle looking for it!!
The Meat Section is the
True Gospel of Jesus Christ
.
The Milk Section is likened to those who will not preach on sin and
Hell
, just a feel good message, the Social gospel.
The Junk Food Isle is the outright false doctrine AKA the prosperity gospel, name it and claim it, the Hebraic Roots movement and other false teachings!!
Feasting on just Milk and Junk will eventually cause you great harm, you can count on it!!
---
If you appreciate what this Ministry is doing to Expose the Fake Christians, Satanists, Witches, Communist/Socialist Democrats, R.I.N.O Republicans and the assault on our Conservative, True Christian values,
please consider a small donation
to help us continue and expand. This Ministry is not only under attack by the Enemy, we are now under attack from supposed Christians also. It is what
Tom Horn calls 'Blood on the Altar"
!