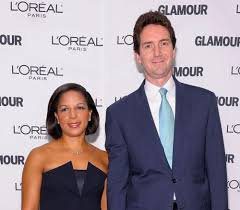 But saying that is Racist and Sexist as MSNBC Ass Clown Chris Matthews says, Right?
Oh I just did, My bad! But it is true. White does get on Rice seeing how her husband is WHITE. Or, is he one of those Trans-Racials like Rachel Dolezal, who does not know what the hell he is?
BLACK RICE says she did it for National Security and NOT SPYING for the Democrats!
Yea right! And I have some prime fresh water swamp land in southern Arizona for raising Salt Water Crocodiles I will sell you at a discounted price!
Her interest was not in national security but to advance the political interests of the Democratic party.
Andrew C. McCarthy The National Review – The thing to bear in mind is that the White House does not do investigations. Not criminal investigations, not intelligence investigations. Remember that.
Why is that so important in the context of explosive revelations that Susan Rice, President Obama's national-security adviser, confidant, and chief dissembler, called for the "unmasking" of Trump campaign and transition officials whose identities and communications were captured in the collection of U.S. intelligence on foreign targets?
Because we've been told for weeks that any unmasking of people in Trump's circle that may have occurred had two innocent explanations: (1) the FBI's investigation of Russian meddling in the election and (2) the need to know, for purposes of understanding the communications of foreign intelligence targets, the identities of Americans incidentally intercepted or mentioned. The unmasking, Obama apologists insist, had nothing to do with targeting Trump or his people. That won't wash.
In general, it is the FBI that conducts investigations that bear on American citizens suspected of committing crimes or of acting as agents of foreign powers. In the matter of alleged Russian meddling, the investigative camp also includes the CIA and the NSA. All three agencies conducted a probe and issued a joint report in January. That was after Obama, despite having previously acknowledged that the Russian activity was inconsequential, suddenly made a great show of ordering an inquiry and issuing sanctions.
Consequently, if unmasking was relevant to the Russia investigation, it would have been done by those three agencies. And if it had been critical to know the identities of Americans caught up in other foreign intelligence efforts, the agencies that collect the information and conduct investigations would have unmasked it. Because they are the agencies that collect and refine intelligence "products" for the rest of the "intelligence community," they are responsible for any unmasking; and they do it under "minimization" standards that FBI Director James Comey, in recent congressional testimony, described as "obsessive" in their determination to protect the identities and privacy of Americans.
Understand: There would have been no intelligence need for Susan Rice to ask for identities to be unmasked. If there had been a real need to reveal the identities — an intelligence need based on American interests — the unmasking would have been done by the investigating agencies.
The national-security adviser is not an investigator. She is a White House staffer. The president's staff is a consumer of intelligence, not a generator or collector of it. If Susan Rice was unmasking Americans, it was not to fulfill an intelligence need based on American interests; it was to fulfill a political desire based on Democratic-party interests.
The FBI, CIA, and NSA generate or collect the intelligence in, essentially, three ways: conducting surveillance on suspected agents of foreign powers under the Foreign Intelligence Surveillance Act (FISA), and carrying out more-sweeping collections under two other authorities — a different provision of FISA, and a Reagan-era executive order that has been amended several times over the ensuing decades, EO 12,333.
Read Much Much more at the National Review.

---
If you go to the store to buy Meat, don't run to the Milk section or the Junk Food aisle looking for it!!
The Meat Section is the
True Gospel of Jesus Christ
.
The Milk Section is likened to those who will not preach on sin and
Hell
, just a feel good message, the Social gospel.
The Junk Food Isle is the outright false doctrine AKA the prosperity gospel, name it and claim it, the Hebraic Roots movement and other false teachings!!
Feasting on just Milk and Junk will eventually cause you great harm, you can count on it!!
---
If you appreciate what this Ministry is doing to Expose the Fake Christians, Satanists, Witches, Communist/Socialist Democrats, R.I.N.O Republicans and the assault on our Conservative, True Christian values,
please consider a small donation
to help us continue and expand. This Ministry is not only under attack by the Enemy, we are now under attack from supposed Christians also. It is what
Tom Horn calls 'Blood on the Altar"
!