Just click on the link if you don't believe it!!!
It REDIRECTS to Biden's campaign website!!
Judi McLeod and Kelly O'Connell | Canada Free Press – Joe Biden & the DNC have not simply co-opted a political advocacy group, but they have RATIFIED ANTIFA'S VIOLENCE AGAINST AMERICAN CITIZENS
Thanks to a major exposé of the enterprising San Francisco News, comes stunning information that the antifa.com website—takes you directly to the homepage of joebiden.com.
As Catholic priest Fr. John Zuhlsdorf (Fr. Z),  a sort of Fr. Brown, in real life advises, type in antifa.com and see for yourself.:
"Today I was alerted to a curiosity.
"I think you know what ANTIFA is and what is doing.
"Try this:
"Type antifa.com in your browser address bar and hit the ENTER key.  Or click HERE – antifa.com
"Your destination is … joebiden.com
"What is ANTIFA?  Who run in the streets openly in their name?
"Domestic terrorists.
"Domestic Terrorists for Biden.
"Please share this post!!
Readers: When you click on Fr. Z's link, closely watch your address bar and see how it flips from antifa.com to joebiden.com.
From San Francisco News:
"The front page of the website is a video of 2020 presidential candidate, Joe Biden and his VP, Kamala Harris laughing together, attending rallies, hugging children, American flags waving and friendly handshakes.

"Directly under the video, it says, "66 DAYS LEFT EVERY DOLLAR COUNTS" giving people the option to donate to the Biden Harris campaign that is funded through, ActBlue where you are promised your donation will go through immediately.

"Black Lives Matter was also funded through ActBlue and was proven to fund candidates like Joe Biden and Bernie Sanders.
Black Lives Matter was also funded through ActBlue
Black Lives Matter was also funded through ActBlue and was proven to fund candidates like Joe Biden and Bernie Sanders.
"Like Black Lives Matter, Antifa claims to stand to "end white supremacy."  In the name of "ending racial injustice" police have been terrorized, violently attacked and hit unconscious with bricks. This behavior has been given a pass by democratic city mayors and governors in Chicago, Portland and New York just to name a few. Although the message of BLM is to end white supremacy, the violent tactics used to get there have been the same as domestic terrorist group, Antifa. (San Francisco News)

"Antifa's goal is to "disrupt Neo Nazis and white supremacy." They will do anything to get the job done including physical fighting, burning down buildings and causing harm to people who are anti their beliefs. They claim to be anti-fascist, but the definition of fascist is quite literally what they are encouraging – having complete power, forcibly suppressing opposition and criticism and often emphasizing an aggressive nationalism and racism. Since the death of George Floyd, there has been thousands of protests across the country that usually end up in violence, especially when there is a disagreement on political beliefs. Just last week a child was bullied by two women that snatched and threw his hat because it said, "MAKE AMERICA GREAT AGAIN." Likewise, a woman was ordered on camera to bow down and apologize for her "whiteness" and she did it. 2020 shows, anti-fascism encourages fascism.

"Antifa claims to be in opposition of any right-wing ideology but how many white supremacists have showed up under the order of Donald Trump relative to the number of members of Antifa who will leave children dead and innocent business owners left with nothing but a bloody head and decades of hard work and ash on the ground. As a group, they dress in all black behind black masks which is referred to as "black block" and say they can't be seen because they fear the "nazis will find them." How many white supremacists do you know? How many have you seen? How many have you heard of at a BLM protest? We hear that they exist, but headlines don't show that they are not responsible for the chaos, death and blatant disruption of our country in 2020 but in fact, their counterpart, Antifa is.

"This year, the BLM protests has been a place for Antifa to practice their tactics. In Seattle, they showed up to a protest with guns and a sign that read, "ANTIFA FOR BLM." In Portland, a member stabbed a reporter for documenting a political event. In 2017, a member of the group confirmed that their reason for physical fighting was necessary because "historically it has worked" and said that you, "have to make it so uncomfortable for them to be doing white supremacy organizing that they no longer want to do that."

"Considering the blurred lines of protesting and rioting or peaceful and violent (see below) reported by mainstream media, president Donald Trump has called Antifa out for leading the riots although it is unclear that all violence is due to only Antifa members. In June, Attorney General, William Barr said that he will treat violence by Antifa as domestic terrorism.

"On the contrary, antifa.com is a straight shot to Joe Biden. With 66 days left until the 2020 presidential election, the country has seen a rise in crime and violence in recent months directly related to the BLM movement and if you feel compelled to visit Anfita.com, you're encouraged to donate to potential future President, Joe Biden."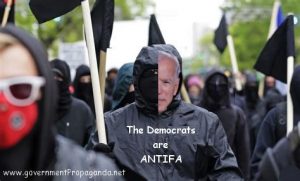 Joe Biden & the DNC RATIFIED ANTIFA'S VIOLENCE AGAINST AMERICAN CITIZENS
The stunning connection between joebiden.com and antifa.com makes a liar of the entire Democrat Party—which, because with polls now indicating millions of Americans believe Democrats continue to look the other way as mob rule terrorizes the residents of Democrat-run cities—they are now trying to walk back.
Democrat" Resistance" Leader Barack Obama, only today sent out a donation plea, in which he described Biden as "the leader America needs right now". 
"Joe knows what it's like to be in the White House in the midst of a crisis, and there's nobody I trust more to heal our country and help us rebuild even stronger," Obama said.

"Now that he's chosen Kamala Harris to be America's next vice president, we urgently need to support them—and Democrats down the ballot—through the final leg of this race by mobilizing and inspiring folks to get out and vote."
If Joe Biden's official campaign is linked to Antifa, we have several problems. First, Antifa is not a protest group but is paramilitary in orientation. Antifa leaders state that use violence when fighting for their ideals. Now we have a dilemma. This means Joe Biden & the DNC have not simply co-opted a political advocacy group, but they have RATIFIED ANTIFA'S VIOLENCE AGAINST AMERICAN CITIZENS. This is actionable. Blood is now on the hands of the Democrat Party and the Department of Justice & FBI must be immediately brought in and arrests, prosecutions and put the appropriate persons on trial while dismantling Antifa.
Meanwhile, take a video (screenshot) of the virtual transfer from antifa.com to JoeBiden..com and send it out to as many people as you can.
Judi McLeod and Kelly O'Connell | Canada Free Press – Posted with permission from Kelly O'Connell
---
If you go to the store to buy Meat, don't run to the Milk section or the Junk Food aisle looking for it!!
The Meat Section is the
True Gospel of Jesus Christ
.
The Milk Section is likened to those who will not preach on sin and
Hell
, just a feel good message, the Social gospel.
The Junk Food Isle is the outright false doctrine AKA the prosperity gospel, name it and claim it, the Hebraic Roots movement and other false teachings!!
Feasting on just Milk and Junk will eventually cause you great harm, you can count on it!!
---
If you appreciate what this Ministry is doing to Expose the Fake Christians, Satanists, Witches, Communist/Socialist Democrats, R.I.N.O Republicans and the assault on our Conservative, True Christian values,
please consider a small donation
to help us continue and expand. This Ministry is not only under attack by the Enemy, we are now under attack from supposed Christians also. It is what
Tom Horn calls 'Blood on the Altar"
!