Many of you are Lapping up the Poison Elixir of Faux News, like a Dog or Cat will Lap up Anti-Freeze. It is sweet to the taste, but it is KILLING YOU  and America!!!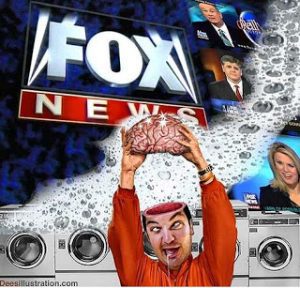 FAUX News is as much an Enemy of America as CNN, MSDNC, and the other Fake News Outlets, with the exception of just a couple folks on there. They are mere tokens on there to keep you coming back for more!
All others, including CBS, ABC, NBC, right down to your local station,  are filled with Communist Democrats, who Brainwash and Gaslight you every single day!
Quit watching that Scum. Quit hanging on to Rotting Corpses! The foul stench will rub off on you

and eventually you will smell, and be like them!
I CAN SEE IT, AND SMELL IT ON SOME OF YOU!

You are almost becoming like one of them! STOP IT! Let the Dead bury the Dead! We CAN, and SHOULD apply the Principles of Scripture, to EVERY situation, in EVERY aspect of our daily lives!!!
Luke 9:57–62 "And it came to pass, that, as they went in the way, a certain man said unto him, Lord, I will follow thee whithersoever thou goest. 58 And Jesus said unto him, Foxes have holes, and birds of the air have nests; but the Son of man hath not where to lay his head. 59 And he said unto another, Follow me. But he said, Lord, suffer me first to go and bury my father. 60 Jesus said unto him, Let the dead bury their dead: but go thou and preach the kingdom of God. 61 And another also said, Lord, I will follow thee; but let me first go bid them farewell, which are at home at my house. 62 And Jesus said unto him, No man, having put his hand to the plough, and looking back, is fit for the kingdom of God." 
Shake the Dust from your feet and leave it ALL behind! 
Matthew 10:12-14 "And when ye come into an house, salute it. 13 And if the house be worthy, let your peace come upon it: but if it be not worthy, let your peace return to you. 14 And whosoever shall not receive you, nor hear your words, when ye depart out of that house or city, shake off the dust of your feet."
If you keep watching, you are partakers of Their SIN!
2nd John 1:9-11 "Whosoever transgresseth, and abideth not in the doctrine of Christ, hath not God. He that abideth in the doctrine of Christ, he hath both the Father and the Son. 10 If there come any unto you, and bring not this doctrine, receive him not into your house, neither bid him God speed: 11 For he that biddeth him God speed is partaker of his evil deeds." 
It is not the only time they have done it! Here is One example! When the truth is presented, like the other Fake News Outlets, they don't want you to know the TRUTH!!
Fox Cuts Away From White House Briefing After McEnany Shows Footage of Portland Riots
WATCH OAN – One America News! They did not cut 1 second of the RNC Feed! They are Patriots and NOT Luciferian's!
Fox News Criticized for Cutting Away from Republican National Convention
Breitbart News – As the nation turned its eyes to the stage of the Republican National Convention on Monday night, Fox News' live coverage was notably inconsistent.

"Can't believe I have to watch the convention on @CNN," Trump campaign Digital & Data Senior Advisor Brad Parscale tweeted just before 9:00 PM on the opening night of the Republican National Convention. "Unbelievable." He was not alone.

Can't believe I have to watch the convention on @CNN. Unbelievable. @FoxNews

— Brad Parscale (@parscale) August 25, 2020

As the evening continued, social media lit up with questions and criticism regarding the outlet's broadcasting choices. NBC News reporter Sahil Kapur posted a screenshot showing Fox cutting away from live coverage:
Even Tucker Carlson cut away as he was talking to that Faux Conservative Deep State Traitor Brit Hume!
Fox News has cut away from the Republican convention. pic.twitter.com/VauD1J2ZEN

— Sahil Kapur (@sahilkapur) August 25, 2020
Ask yourself why the great Sean Hannity would cut away? Remember,  Hannity was a Boot-licker for the Deep State Bush Clan, and helped to bring in Draconian measures. Hannity, just like Rush Limbaugh,  is a gatekeeper for the CFR and other Never-Trump Think Tanks! Why do you think he still licks the boots of Carl Rove and other R.I.N.O Republican Trash?
And…Fox News dropped the feed of the #RNC2020.

Who gives a crap what Sean Hannity has to say right now? #PatheticFoxNews

— Mark Dice (@MarkDice) August 25, 2020
Fox News is only cable network not airing the RNC speech of a business man who fled Cuba years ago and is warning against the dangers of Communism and the Democrat Party embracing it. pic.twitter.com/fBsSILiAdR

— Mark Dice (@MarkDice) August 25, 2020
This man, gave a tear jerking speech that all should take note of! If the Communists get control, American WILL BE DESTROYED!
---
If you go to the store to buy Meat, don't run to the Milk section or the Junk Food aisle looking for it!!
The Meat Section is the
True Gospel of Jesus Christ
.
The Milk Section is likened to those who will not preach on sin and
Hell
, just a feel good message, the Social gospel.
The Junk Food Isle is the outright false doctrine AKA the prosperity gospel, name it and claim it, the Hebraic Roots movement and other false teachings!!
Feasting on just Milk and Junk will eventually cause you great harm, you can count on it!!
---
If you appreciate what this Ministry is doing to Expose the Fake Christians, Satanists, Witches, Communist/Socialist Democrats, R.I.N.O Republicans and the assault on our Conservative, True Christian values,
please consider a small donation
to help us continue and expand. This Ministry is not only under attack by the Enemy, we are now under attack from supposed Christians also. It is what
Tom Horn calls 'Blood on the Altar"
!